5. The Voyage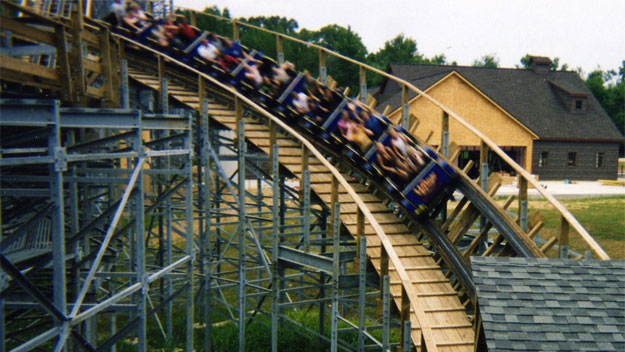 The Voyage is a record-breaking wooden roller coaster, located in Santa Claus, Indiana at the Holiday World & Splashin' Safari theme park. Though its max height of 163 feet doesn't quite qualify it for Hyper Coaster status, The Voyage holds world multiple records. These include "Wooden Roller Coaster with the Most Air-Time" (24.3 seconds), "Wooden Coaster with the Most Underground Tunnels" (five) and others. The Voyage has also won the Golden Ticket award for "Best Wooden Roller Coaster" every year since it opened in 2007. Its steepest angle of descent is 66 degrees, and it reaches a top-speed of 67.4 MPH. In addition to five underground tunnels, the ride's 1.2-mile long track includes three 100+ foot drops and three sections of 90-degree banking, for a total ride experience lasting 2 minutes and 45 seconds.
4. Expedition GeForce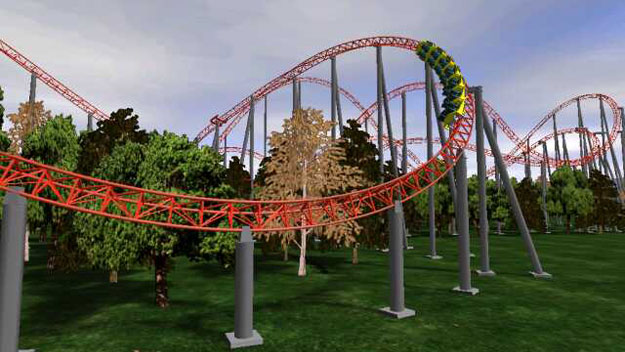 Operating since June 2001, Expedition GeForce of Haßloch, Germany is the second-tallest coaster on the European mainland. It has a drop of 184 feet and a top speed of 74.6 MPH. An 82-degree max vertical angle (Germany's steepest), plentiful airtime hills, and numerous overbanked turns that become increasingly twisted as the track runs over a lake and through the woods make this ride one of the world's favorite steel roller coasters. Expedition GeForce has been named the best roller coaster in Europe on multiple occasions. As its name implies, the ride has an exceptionally strong G-force of 4.5. Expedition GeForce is also unique in that it is one of few coasters with a faster cable lift rather than a traditional chain lift.
3. El Toro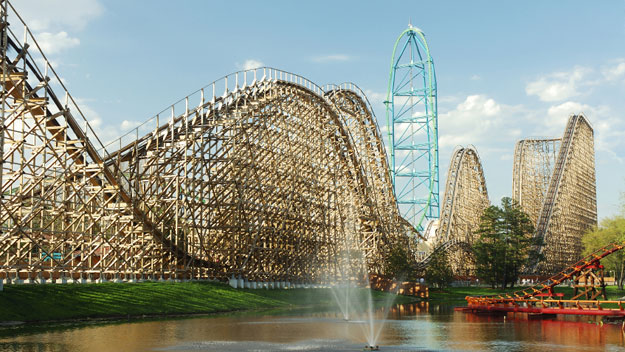 There is no doubt that this Mexican rodeo-themed wooden roller coaster lives up to its name, which, of course, translates to "The Bull" in Spanish. El Toro has tons of ejector airtime, giving the illusion that riders will be "bucked off" the ride. In fact, the extreme negative G-forces incurred by this design require very tight lap bar restraints, which larger riders may not be able to fit into. The 188-foot tall, 70 MPH ride is tallest and fastest wooden roller coaster on the East Coast, and the third-tallest and third-fastest wooden roller coaster in the world. El Toro has a max vertical angle of 76 degrees, which was the steepest drop of any wooden roller coaster worldwide until South Korea's T Express broke the record by 1 degree in 2008.
2. Millennium Force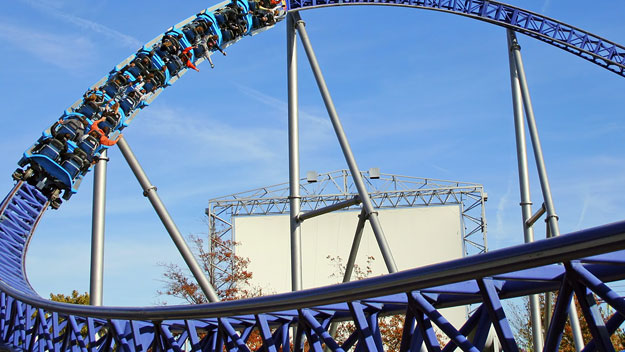 Golden Ticket Awards have ranked this Giga Coaster, the first of its kind, the #1 or #2 steel roller coaster in the world every year since it opened in 2000. One of the main attractions at Cedar Point in Sandusky, Ohio, Millennium Force features a 300-foot drop at an 80-degree angle, a top speed of 93 MPH, and a ridiculously steep non-inversion banked turn of 122 degrees. Millennium Force was the first roller coaster to feature an elevator cable lift system (like the one Expedition GeForce has), which gets riders to the top faster than the traditional chain lift. It is also one of the longest coasters in the world, with a length of 6,595 feet. While no longer the tallest or fastest coaster in the world, Millennium Force remains one of the highest-ranked coasters in polls.
1. Bizarro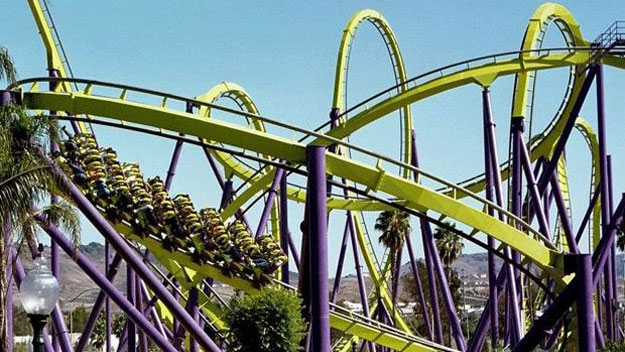 You'll have to have some nerves of steel for this one. Previously known as Medusa, Bizarro at Six Flags New England in Agawam, Massachusetts has consistently ranked as the #1 or #2 roller coaster in the world by Golden Ticket Awards and other polls, and it is number-1 in our book. This comic book-themed steel hyper coaster is immensely praised by roller coasters aficionados for its spectacular smoothness and oodles of airtime. The critically acclaimed coaster, named after Superman's evil doppelganger, has more than one mile of track and an incredible 221-foot, 72-degree drop at 77 MPH. A 180-degree overbanked turn, clockwise and counterclockwise helixes, custom-built audio, disorienting fog tunnels, open-air, color-changing Bizzarro shields to soar through, and themed building structures giving the impression of speeding through a city add to the bizarre thrill of this ride. When it comes to roller coaster thrills, it just doesn't get any better than this.