10. Nemesis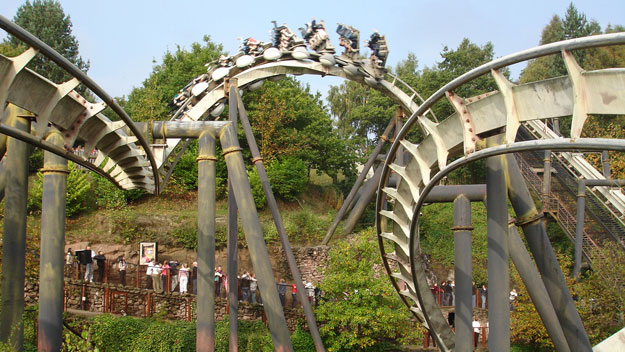 The only U.K. roller coaster on our list, Nemesis is an inverted roller coaster at the Alton Towers theme park in Staffordshire, England. This ride is intensity. This ride has also been described as "bloody brilliant", and for good reason. Almost 18 years after it was built, Nemesis is still considered one of the best roller coasters in the world due to its intense inversions and G-forces. The Bollinger & Mabillard favorite features two corkscrews, a heartline roll, a zero-G roll, and a 270-degree downward helix. The helix is one of the most intense elements of any coaster worldwide, and no inverted coaster built since incorporates this kind of element at such a high speed (50 MPH).  Built in a wooded, rocky terrain, another exciting feature of this coaster is that the track extends down into actual ravines, far below the treeline.
9. Behemoth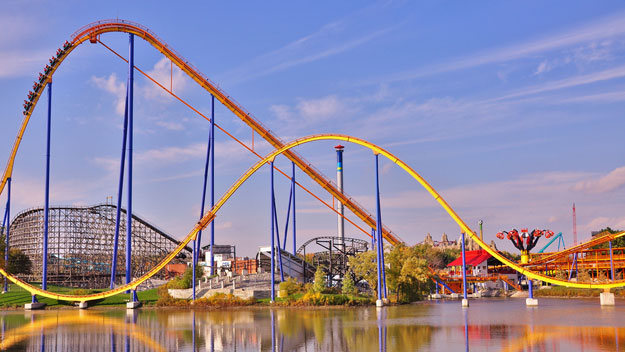 Both the second-tallest and second-fastest roller coaster in Canada, Behemoth is a 230-foot high monster located in Canada's Wonderland in Vaughan, Ontario. Like X2, Behemoth is a Hyper Coaster, or a coaster with a height or first drop of over 200 feet. In addition to its extreme height, high speeds (reaching 77 MPH), and rapid changes in elevation and direction, this steel coaster features a special prototype open-air seating arrangement, which allows for each passenger to have a "front row" seat. Highlights along the 5,300-foot course include four airtime hills, two helixes, and a 180-degree hairpin turn. Behemoth was voted one of the best new rides in the world by "Amusement Today" readers after it opened in 2008.
8. Goliath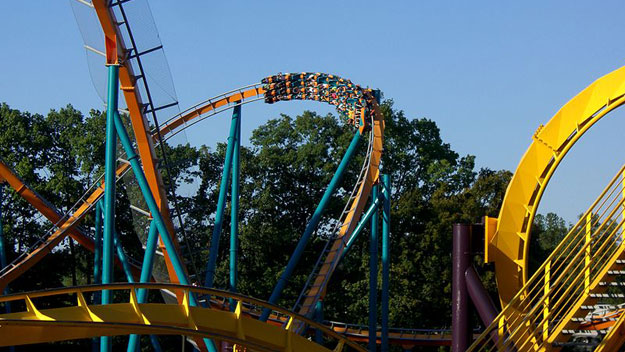 Described by the official website as "an 8.5-acre, 200-foot-tall steel juggernaut," Goliath is a hyper coaster at Six Flags Over Georgia, situated 11 miles west of Atlanta. Debuting in 2006, this monster of a coaster is so big that it actually had to be built extending slightly outside of the park grounds. Some elements of this sprawling Bolliger & Mabillard giant, rated #4 in Golden Ticket Awards' Top Steel Roller Coasters rankings in 2011, include a 70 MPH top speed, a 175-foot drop, multiple airtime hills and drops, a 540-degree downward helix, and an overbanked horseshoe turn. The ride has sideless trains with individual lap restraints, and, of course, an on-ride camera to capture your look of terror before your train (finally!) pulls into the station.
7. Intimidator 305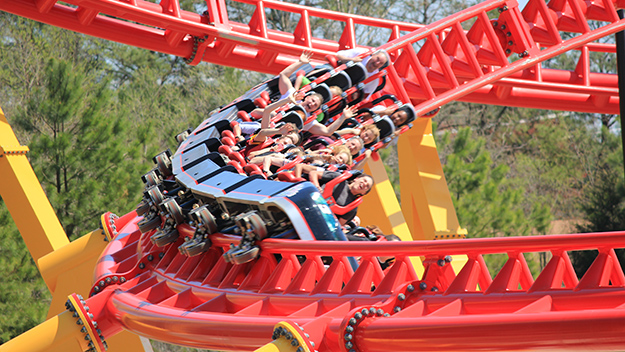 With a height of 305 feet and a top speed of 90 MPH, Intimidator 305 at Kings Dominion in Doswell, Virginia is one of the tallest and fastest roller coasters on the East Coast. Intimidator 305 is a Giga Coaster, a title reserved for coasters with a height or drop of 300 feet or higher. The steel coaster's heart-stopping 85-degree first drop of 300 feet is followed by a five air-time humps and a series of near-ground level high-speed twists and turns, with a maximum G-force of 4.3. Opened in April 2010, Intimidator 305 was voted "Best New Roller Coaster" by "Amusement Today" readers that same year.
6. Kingda Ka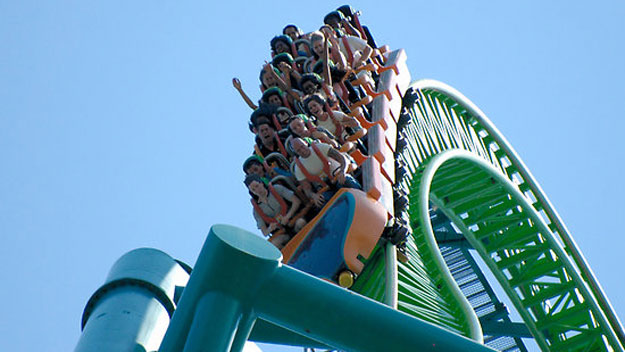 Standing 456 feet tall, or 45 stories, Kingda Ka by Intamin AG is the world's tallest roller coaster. A staple of Six Flags Great Adventure in Jackson, New Jersey since 2005, this steel giant was the second Strata Coaster ever built (Top Thrill Dragster was the first). With a dizzyingly fast top speed of 128 MPH, Kingda Ka is the world's second-fastest roller coaster after Formula Rossa – although it has the #1 fastest roller coaster drop, and it's straight down, as in 90 degrees down. Other than being taller and faster, the design and experience of this ride is nearly identical to that of Top Thrill Dragster, with an upside-down U-shaped steel track and a hydraulic launch system. Featuring an additional hill, Kingda Ka is a bit longer than Top Thrill Dragster, with a total ride duration of 28 seconds.