15. Katun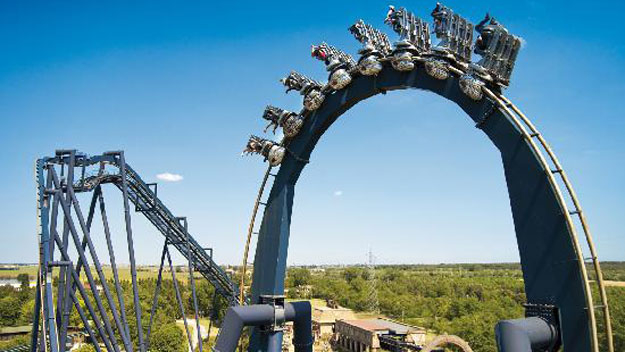 Considered one of Bolliger & Mabillard's finest, Katun is an inverted steel roller coaster located at the Mirabilandia Amusement Park in Savio Italy. Its 3,937 feet of track make Katun the longest inverted roller coaster in Europe. Katun features six inversions, including a vertical loop, a cobra roll, a zero-G roll, and two corkscrews. The ride's tallest drop is from 147.8 feet, and the train reaches a top speed of 65 MPH. In operation since 2000, the ride has an ancient Mayan ruin theme – "Katun" is a period of time in the Mayan Calendar. If you make it to Mirabilandia, make sure to also check out iSpeed, a "rocket"-style coaster in the park, before you say ciao.
14. T Express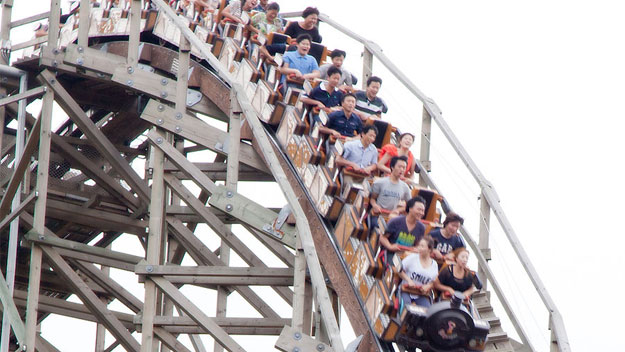 Want to ride the world's steepest wooden roller coaster? Well, then it's time to book your ticket to South Korea! In addition to being the steepest woodie, T Express, located at the Everland theme park in Yongin, South Korea, has also been ranked the world's best wooden coaster, by Mitch Hawker's online poll in 2008 and 2010, and is the largest roller coaster of any kind in South Korea. The track, prefabricated by Intamin AG, has a max vertical angle of 77 degrees and a drop from 150.11 feet, and is 5,383.8 feet long – making it the world's sixth-longest wooden coaster. The ride's three trains, with six cars per train, reach a top speed of 65 MPH. T Express is built partially on a hillside to take advantage of the terrain height differential, standing 183.75 feet tall.
13. X2
One of Six Flags Magic Mountain's signature steel roller coasters, X2 is one mighty beast. Formerly known as "X," X2 is the first 4th dimension roller coaster, in which seats can rotate independently of the orientation of the track. In the case of X2, the four-rail track allows seats to rotate 360 degrees forward or backward in a controlled spin. The first drop of this Southern California favorite is from 20 stories high (212 feet), at an 88.8 degree angle, allowing the train to hit a maximum speed of 76 MPH. X2's 3,600-foot long course features two "raven turns," two inversions, a skydive, a back-flip, and a twisting front-flip. The only downside – being one of the two most popular rides in the park (along with Tatsu), wait times often exceed 2 hours.
12. Top Thrill Dragster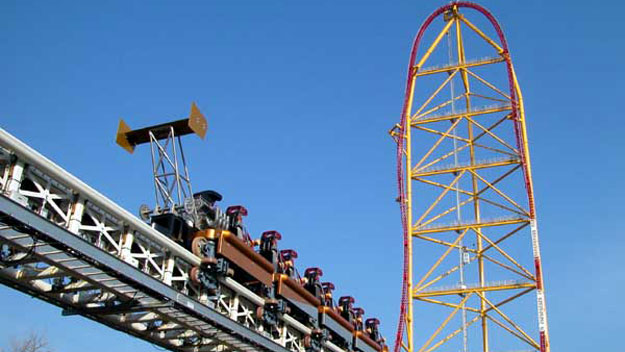 For a 17-second ride, Top Thrill Dragster packs a pretty powerful adrenaline punch – you can probably sense that just from one look at the ride's incredible, inverted U-shaped design. This Cedar Point, Sandusky, Ohio steel Strata Coaster (meaning it has a height or a drop of 400 feet or higher) goes from zero to 120 MPH in under four seconds. After reaching the 420-foot apex a few seconds later, passengers are shot straight back down the other side of the track at a death-defying 90-degree angle. Top Thrill Dragster held the distinction of "World's Tallest Roller Coaster" upon its completion in 2003, although this title was usurped by Six Flags Great Adventure's Kingda Ka in 2005.
11. Balder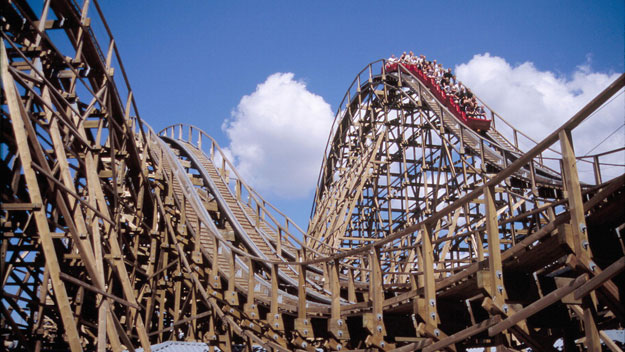 Balder in Gothenburg, Sweden may not be the world's largest or fastest coaster, but it one of the world's favorite wooden coasters because of its high percentage of airtime. Riders experience air time a total of 10 times throughout the 2:08-minute ride. One of only four prefabricated wooden roller coasters in the world (El Toro and T Express on our list are two others), Balder has an almost steel-like smoothness, as opposed to the bumpy character of traditional wooden coasters. Operating since 2003 at Gothenburg's Liseberg amusement park, Balder is widely considered one of the best coasters in Europe.