20. Nitro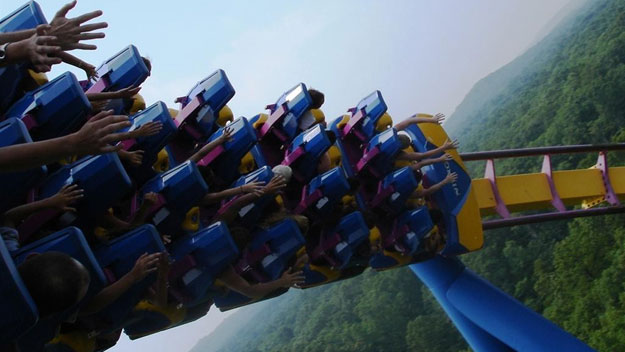 Nitro is a whole lot of ride. This Mortal Kombat-themed coaster is located in Six Flags Great Adventure in Jackson, New Jersey and has been ranked #3 in Golden Ticket Awards' "Best Steel Roller Coasters" rankings for five years-and-counting. The spectacular Nitro ride experience includes a drop from 215 feet, a max speed of 80 MPH, a track length of 5,394 feet and a G-force of 4.2. When it opened in 2001, Nitro was the fastest coaster in New Jersey, and, at 230 feet, the tallest coaster on the U.S. East Coast. The ride has open, side-less trains with individual lap-bar restraints to give you that "Are you sure this is safe?" feeling. (Don't worry; it is.) Other notable features include a 540-degree helix, a hammerhead turn, an S-curve, and six camelbacks. Wondering where to sit? The back row of the train is reported to have the most airtime, while the front row features a smoother ride and an amazing view of the Philadelphia skyline (55 miles away) on a clear night.
19. Maverick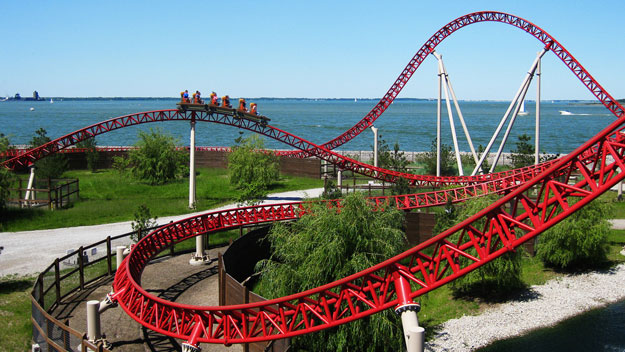 Maverick is not a ride for the faint of heart – literally: riders with heart conditions are warned not to ride this steel coaster, located at Cedar Point in Sandusky, Ohio. This Wild West-themed ride, which cost an impressive $21 million to build in 2007, has an insane drop angle of 95 degrees, and a top speed of 70 MPH. Maverick's overbanked turn at 92 degrees, a "twisted horseshoe roll" featuring two 360-degree corkscrew rolls, and an S-curve through a "rock" canyon are also sure to get your heart pounding. The layout is such that two trains are dispatched at the same time, with the second train launched after the first train starts speeding through the 400-foot, pitch-black launch tunnel. Saddle up, partner!
18. Formula Rossa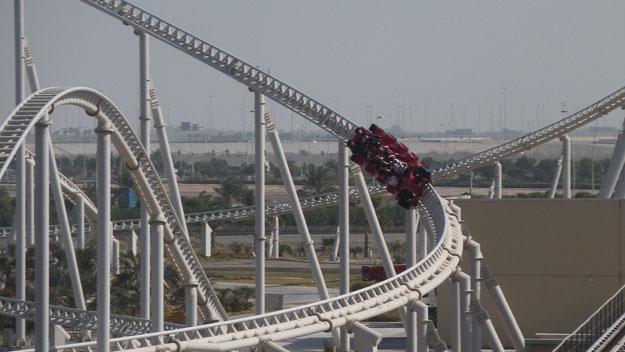 Got a need for speed? Formula Rossa at Ferrari World in Abu Dhabi, United Arab Emirates is the fastest roller coaster in the world, with a hydraulic launch system generating a top speed of 150 MPH and a G-force of 4.8. Inspired by the Autodromo Nazionale Monza racetrack in Italy, the roller coaster cars are designed to resemble a Ferrari Formula One-style cockpit. Its track is 1.4 miles in length, making it the sixth-longest roller coaster track in the world. Because of the high air speeds, riders sitting in the front of the train must wear protective glasses to shield their eyes from impact with airborne particulate matter and insects.
17. Ravine Flyer II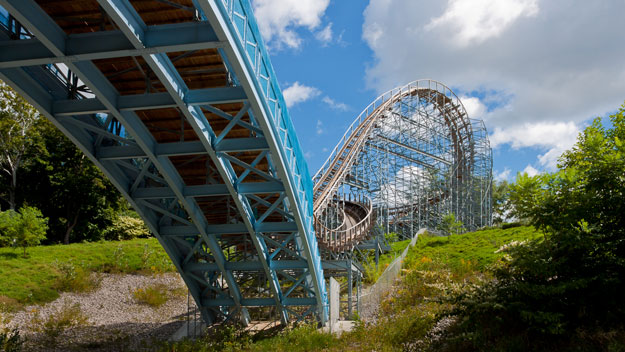 A world-class hybrid wooden roller coaster located at Waldameer Park in Erie, Pennsylvania, Ravine Flyer II was ranked as the Best New Ride of 2008 by "Amusement Today" readers. Ravine Flyer II holds a state record for the tallest drop on a wooden roller coaster (120 feet) and has the 9th tallest drop on a wooden roller coaster in North America. The 1:30 minute ride, designed by The Gravity Group, has a top speed of 60 MPH, a length of 2,900 feet and a very scenic location. Locals say that at dusk, the mist coming across Lake Erie, of which riders can take in a beautiful view on the climb up, makes the Ravine Flyer II even faster. The ride was designed to replace Waldameer Park's original Ravine Flyer, which shut in 1938 after a tragic accident in which a man died.
16. Boulder Dash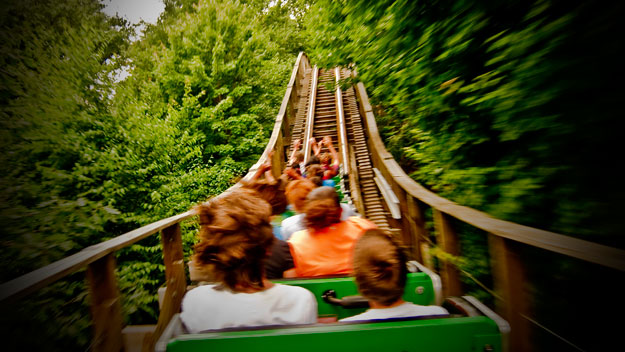 Another wooden roller coaster in a picturesque setting, Boulder Dash in Bristol, Connecticut has the distinction of being the first roller coaster built into the side of the mountain. The coaster incorporates the natural terrain of Lake Compounce, the amusement park where the ride is located, with passengers ascending the mountainside and then dropping from view as they plunge 115 feet down the other side of the mountain, swooshing alarmingly close to trees and boulders at 60 MPH. For most of the time, riders are only 10 to 12 feet from the ground, making a New York Times reviewer feel like he was on "the fastest forest hayride ever." With a length of 4,725 feet, Boulder Dash is the second-fastest and second-longest wooden roller coaster on the East Coast, after El Toro at Six Flags Great Adventure. The National Amusement Park Historical Associated voted Boulder Dash the top wooden roller coaster in 2001 and 2004, and it won the Golden Ticket Award for Best Wood Coaster in 2004.