Are you a roller coaster fanatic? An adrenaline addict? Do terms like "cobra roll," "raven turn," and "interlocking corkscrew inversion" get your blood pumping a little faster? If so, this list of the top 25 best roller coasters in the world should be right up your thrill-seeking alley. These are not your grandfather's roller coasters. Behold some of the tallest, fastest and most insane coasters in the world. Strap in and get ready for negative G-forces, 100+ MPH speeds, and 90-degree vertical drops from skyscraper heights. And please, remember to keep your arms and legs inside the vehicle at all times … unless you want this ride to be your last.
25. Piraten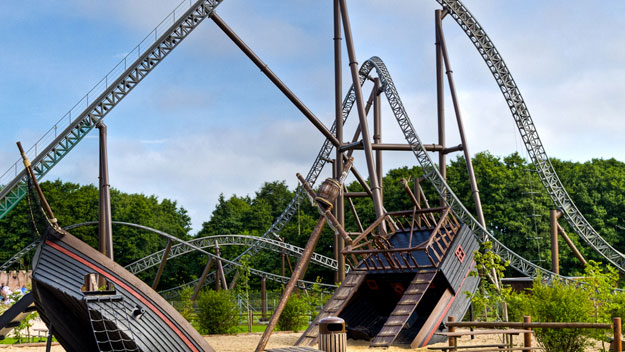 Ahoy! With a height of 105 feet and top speed of 56 MPH, Piraten ("The Pirate") is the tallest and fastest roller coaster in Denmark. This steel coaster also features a 70-degree vertical drop and a 2,500-foot track. Although the United States has coasters that are four times as tall and more than twice as fast (not to brag or anything), Piraten is still a pretty darn good ride – this Danish attraction was voted as the 5th best roller coaster in the world in 2008. So be sure to check it out if you ever make it to Denmark (to the Djurs Sommerland amusement park in Nimtofte, Jyland, Denmark, to be specific).
24. Incredible Hulk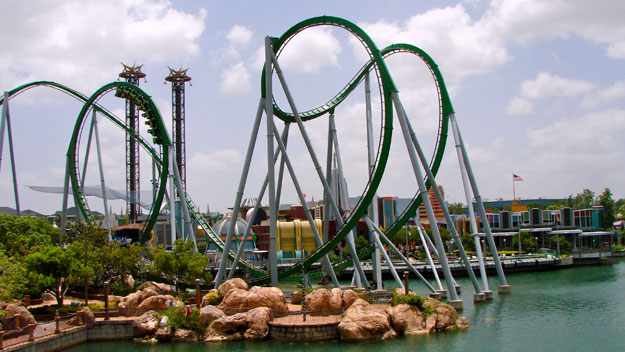 Propelled by a unique launch lift hill, riders of The Incredible Hulk in Islands of Adventure in Orlando, Florida accelerate from zero to 40 MPH in the first two seconds of this ride, experiencing the G-force of a jet taking off an aircraft carrier (1.42 Gs). Named after the famous comic book character, this superhero of a ride featured the world's tallest cobra roll when it opened in 1999. Another unique feature of the Incredible Hulk is the load roaring sound the train makes as it goes down the track, which is caused by the ride's distinctive box-shaped track tubes, a hallmark of the coaster's manufacturer, Bollinger & Mabillard. Other highlights include a weightless "zero-G" roll, a 105-foot drop, a vertical loop, two corkscrews, a helix, two overbanked turns, a mist tunnel, and a top speed of 67 MPH. Lighting and sound effects are also used to tell the ride's the "story."
23. Texas Giant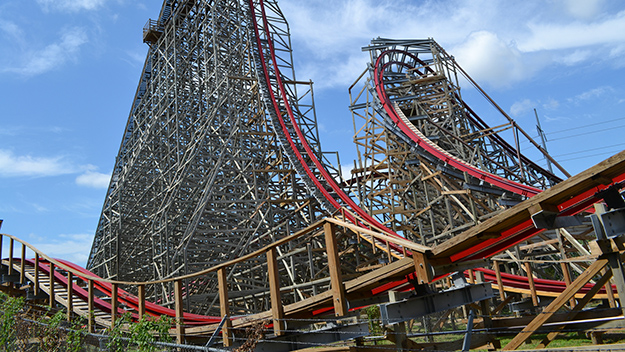 Texas Giant at Six Flags Over Texas in Arlington, Texas is the tallest steel-wood hybrid roller coaster in the world, standing 153 feet tall. This "twister"-style coaster, which opened in 1990, has a wooden support structure, which was redesigned with a steel track to provide a smoother ride experience and reopened in 2011. After its recent renovations, Texas Giant received a Golden Ticket Award for being one of the "Top 10 Steel Roller Coasters," a designation determined by the vote of "Amusement Today" magazine readers. The ride features a scream-worthy 79-degree vertical drop from 147 feet, and banked turns with angles of up to 95 degrees.
22. Kawasemi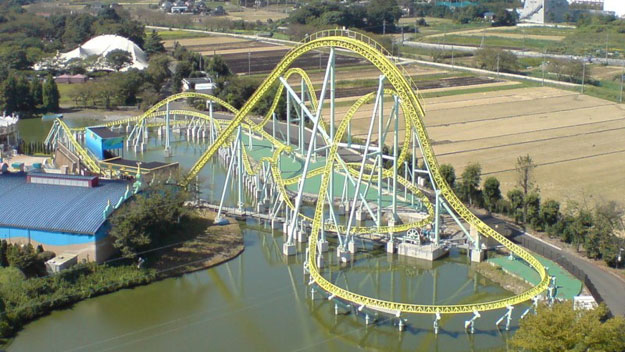 Kawasemi is a fast and fun steel coaster, manufactured by roller coaster design legends Intamin AG and located at Tobu Zoo Park in Minami, Saitama, Saitama Japan. The ride's name is written as "カワセミ" in Japanese, which translates to a type of small bird known for its rapid flight speed. Operating since 2008, Kawasemi was the first Mega-Lite coaster produced by Intamin AG. The layout of this style of coaster is characterized by high-speed horizontal turns, steep drops, overbanked curves, and airborne S-curves. Kawasemi has a top speed of 54 MPH, a height of 108 feet, a steepest drop of 67.4 degrees, and a total ride time of 1 minute.
21. Phoenix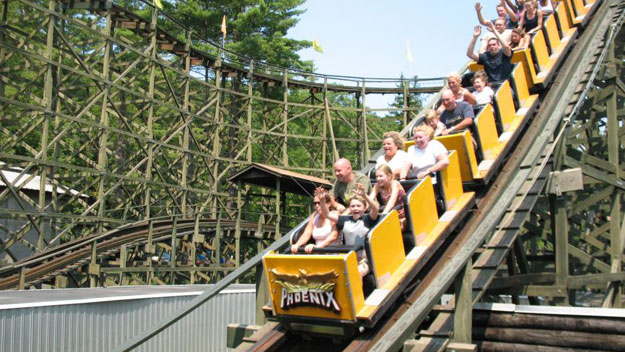 Operating since 1985 at Knoebels Amusement Resort in Elysburg, Pennsylvania, the Phoenix has consistently ranked at or near #4 in Golden Ticket Award rankings for "Top Wooden Roller Coasters." The ride features lots of upward acceleration resulting in negative gravity, or a feeling of weightlessness, also known as "airtime." The Phoenix is actually a bit of an antique — it operated as "The Rocket" at Playland Park in San Antonio, Texas from 1947 until the park closed in 1980. The ride was purchased, relocated and restored by Knoebels in 1984. With its 3,200-foot track and 78-foot height, the Rocket was advertised as "the largest roller coaster in the world" when it opened in the 1940s. Today, Knoebels hosts the popular annual event "Phoenix Fall Phun Phest" each October to celebrate this historic coaster.