While fall is perfect for cozy nighttime dinner parties with plenty of hot spiked cider and big bowls of steaming stew, and summer is made for casual evenings sitting around the grill with a cold one as the dusk gathers, spring and brunch seem made for one another. While obviously brunch is a great meal anytime of year, the warm sunny mornings, sudden abundance of flowers, and relief of being able to open your windows to fresh breezes after months of dry recycled air makes celebrating weekend mornings even more appropriate than usual once April rolls around.
Whether you're throwing a springtime bridal shower, birthday brunch, baby shower, or just celebrating the fact that it's finally Saturday, a good brunch has several key elements. Something hot and caffeinated is a must in case you have guests that can't keep their eyes open without several cups of strong coffee to jolt them awake, a large main dish that is easy to prepare and serves a crowd will lower your stress levels trying to prep everything before the guests arrive (bonus points if you can make it the night before), and a tray of brunchy finger food – mini muffins, quiche bites, etc. – will keep everyone satisfied while they mingle upon arrival. Of course, there's lots of other delicious additions to this trio that will make your brunch an even more memorable event. To help you plan, we've gathered nine recipes that are perfect or a spring brunch from a group of great food bloggers.
1) Sriracha and Wasabi Bloody Mary from Bird and Cleaver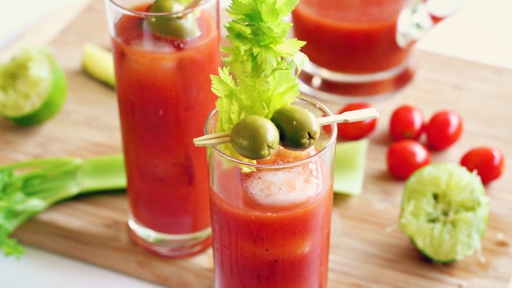 Some people swear that Bloody Marys are the best hangover cure around. We're not sure there's much science behind that claim, but either way, they're a classic brunch drink that can be exceptional when made well. This version from John and Lindsay of Bird and Cleaver really packs the heat with both wasabi (for that back of the nose burn), and sriracha (for tongue-tingling spice). Use a good vodka and a tomato juice that you love the taste of to get this drink right, and have fun with your garnishes – celery, olives, lemons, asparagus, bacon… whatever floats your boat.
2) Peach Champagne Punch from Coordinately Yours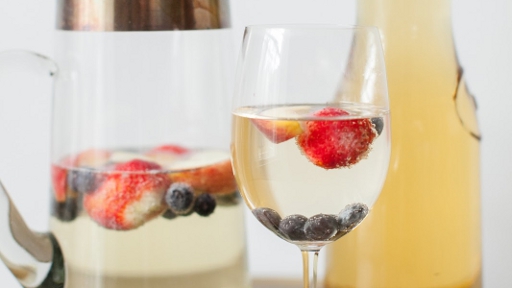 If a glass of spicy tomato juice and vodka sounds a little too intense for the AM hours, but you still want to serve something a bit boozy, champagne is another brunch classic. Mimosas are the typical choice, but a champagne punch with fresh fruit is an elegant alternative. Julie of Coordinately Yours mixes this one up using peach-flavored champagne, lemon juice, and a simple syrup. Don't sneer at the flavored champagne – it's a perfect, inexpensive choice for this slightly sweet drink.
3) Chai Tea Latte from Barefeet in the Kitchen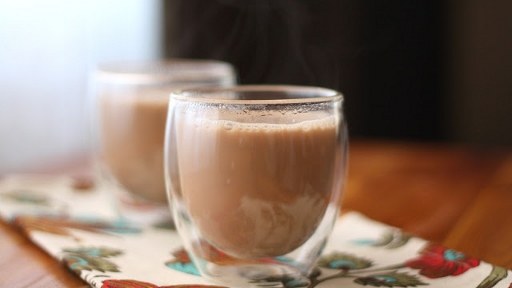 Although you might still want to have a pot of coffee around, serving chai tea lattes instead of espresso ones is a nice way to change things up. Everyone makes their chai slightly differently, and it might take you a bit of experimenting to find the combination of spices that you like best, but this recipe from Mary of Barefeet in the Kitchen, is a good starting point. Mary uses an array of whole spices – cardamom, cloves, cinnamon stick, peppercorns, and bay leaves – along with fresh ginger to flavor her mixture. She also uses a mix of half and half and water for a super creamy drink that looks perfect for taking that last bit of morning chill off.
4) Crab, Asparagus, and Pepper Mini Frittatas from DJ Foodie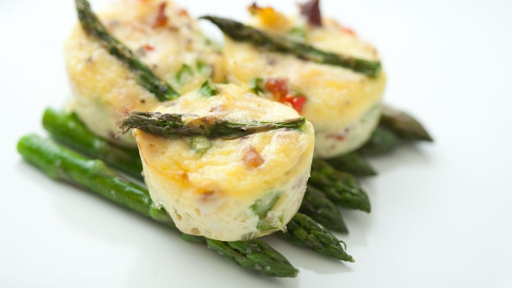 These bite-sized mini frittatas from DJ Foodie feature one of our favorite spring veggies – asparagus! – as well as sweet red peppers and rich crab meat for a little bite of egg that's packed with flavor. Baked in a muffin tin, these are cute and satisfying, and will certainly keep your guests from wondering when that main dish is going to be ready. If you're serving an egg-based main, you might want to go with a different appetizer, but for anything else (french toast, pancakes, baked ham, etc.), definitely give these a try – they're sure to be a crowd-pleaser.
5) Avocado Deviled Eggs from My Kitchen of Love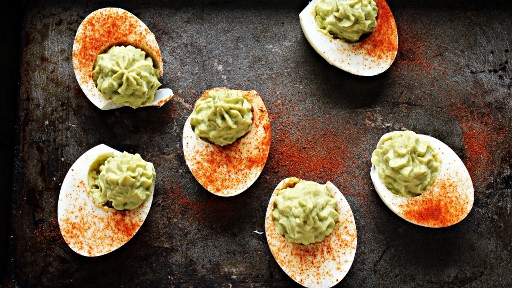 Another classic egg dish – deviled eggs – gets a revamp here when Phuong of My Kitchen of Love mashes the egg yolks with avocado in addition to the traditional mayo, lemon, and seasonings. The avocado provides a fun dose of color, a little extra creaminess, and an intriguing flavor to this brunch tray staple. It's also a great way to use up any leftover hard-boiled eggs from Easter festivities!
6) Strawberry Cream Cheese Muffins from Confections of a Foodie Bride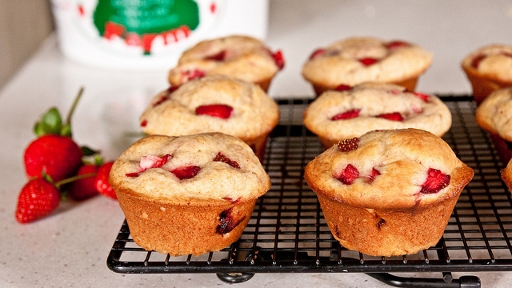 Strawberries are one of spring's best treats – those first flashes of sweetness and color are a promise of all the beautiful fruits of summer. Whether they're simply sliced into a bowl with a sprinkling of sugar, or are whipped into a fancy dessert, strawberries should have a place at the table of any spring brunch. These delicate cream cheese muffins, jammed with chunks of fresh strawberry, from Jason and Shawnda of Confections of a Foodie Bride, are another great option. Plus, it's always good to have a basket of baked goods on the table – they serve as both appetizer and dessert, and if a guest has to leave early, they're an easy take-a-long.
7) Triple Cheese and Spinach Strata with Sun-Dried Tomatoes and Peppers from One Cake Two Cake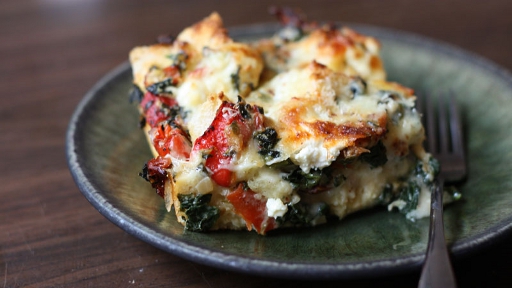 Strata is like a cross between a quiche and a bread pudding – a savory baked egg custard studded with chunks of french bread. It's one of those dishes that's 100% customizable to your taste, but this vegetarian version from Laura of One Cake Two Cake, which includes sundried tomatoes, spinach, roasted red peppers, ricotta, gruyere, and parmesan, doesn't sound like it needs anything to make it perfect. This is also a great make-ahead recipe: chop, saute, and mix your ingredients the night before, and the morning of your brunch all you need to do is pop the casserole dish in the oven!
8) Strawberry Baked French Toast from Butter Baking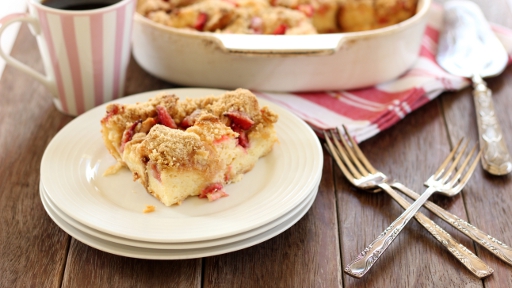 If you crave sweet foods over savory in the morning, baked french toast is probably your best bet for serving a crowd. This make-ahead strawberry french toast from Natasha of Butter Baking takes things one step further by including a crumble topping, making for a delicious, fruity, french toast and coffeecake mash-up. The little pieces of pink berries make it a pretty table-topper as well.
9) Rainbow Fruit Salad from Will Cook for Friends

Since you'll likely be feeding your friends all kinds of rich treats – mini frittatas, strata, french toast, muffins, cocktails – it might be a good idea to have something light and fresh on the table as well. Fruit salad can be very good or very bad, depending on what's included (come on, we've all picked out the strawberries from an insipid bowl of slowly browning bananas and under-ripe cantaloupe before), so using a recipe to guide you is a good idea. This recipe from Willow of Will Cook for Friends is sure to please everyone, as it includes 13 different fruits, all layered in rainbow order for a gorgeous presentation.
(All photographs are copyright of the bloggers that contributed them).