With the ever-increasing presence of wireless technology in speakers, the days of stringing a home for sound, or installing a different stereo system in every room are fading away like the careers of dozens of 90s one-hit-wonders. These days, you can usually get by with one central music system (even if that happens to be your computer) and then beam the beats all around the house thanks to ever-improving mobile speakers. An additional benefit of mobile speakers is that you can take your music outside the house as well — either to the backyard or a backyard barbecue at a friend's house.
First, we'll examine three different wireless technologies found in today's most popular mobile speakers, then we'll move on to our recommendations for five small speakers that deliver big enjoyment.
TECHNOLOGY
Bluetooth
Bluetooth is a technology that uses radio waves to allow devices to communicate with each other. Because radio waves can pass through solid objects, like walls, floors and doors, there doesn't need to be a direct line of sight between two bluetooth enabled devices in order for them to work. Speakers that have Bluetooth tech built in to them are generally easier to pair with devices like iPhones and home stereos than devices using WiFi. However, Bluetooth has a short range — typically not more than 30 feet between two devices — so if you want your speakers to travel further away from your music machine than that, you might want to consider WiFi-enabled speakers. Also, the amount of information that can be sent over a Bluetooth connection is limited, so WiFi speakers can generally deliver a fuller sound.
WiFi
WiFi also uses radio-wave technology to form wireless connections between devices, but WiFi signals tend to be faster, can transmit more data and work over a much broader radius. WiFi technology is also constantly being improved to expand both range and speed. It is the preferred technology if you want to set up a true home sound network, but one small disadvantage is that devices working over a WiFi network tend to use more battery power than those employing Bluetooth.
Airplay
Airplay is a Mac technology that works over your WiFi network to allow content from all Mac devices to wireless communicate with one another. So, if most of your music is stored in iTunes on your Macbook, you can easily beam it to any Airplay-enabled device in the house, without having to go through tricky network setup routines. Speaker manufacturers have been slow to embed Airplay technology into their wares, but that is slowly changing.
TOP FIVE WIRELESS SPEAKER PICKS
Bose SoundLink Bluetooth Mobile Speaker II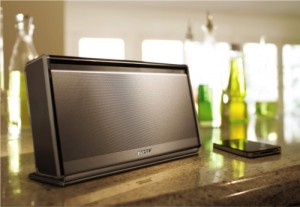 Best For: Big Sound In A Small Package
Price At Press Time: $299
You've no doubt heard about bookshelf speakers, but in the case of this offering from Bose, you can get a book-sized speaker (it's 5 x 9.5 x 1.9 inches). But even though the size of this speaker is a little smaller than one of Jonathan Franzen's novels, it actually produces incredibly loud sound that's rich and nuanced with no distortion at high volume. This is due not only to the four neodymium (a metal used in making high-strength magnets) transducers which produce the mid-range sounds, but also the dual-opposing passive radiators which produce the bass out the back of the unit. In fact, to get the best sound from the SoundLink, it is advisable to place it no closer than 10 inches from the nearest wall.
The unit pairs easily with up to five devices through Bluetooth and has an auxiliary jack if you have a non-Bluetooth music-playing device. Its rechargeable battery is good for about four hours on max volume or about eight hours on a medium level. Bose is also now offering a version of this speaker that works over the Mac AirPlay protocol. It's called the SoundLink Air and, at press time, is listed for $350, but the rechargeable battery is an additional option costing $90.
Libratone Zip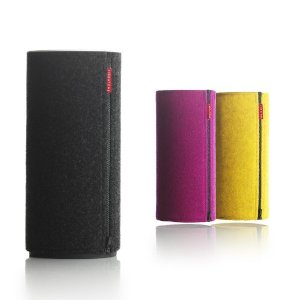 Best For: Function Follows Form Fans
Price At Press Time: $399
If your music and music-playing devices exist inside the Mac universe, this could be the speaker for you. Danish company Libratone might not be a common name when it comes to home audio, but this unique speak' is certainly getting people to take notice. Part of the reason is its design: the speaker is round and gets neatly zipped up in a variety of colorful wool cases, making it sleek and attractive to look at (like many things Danish), despite the fact that it's about twice as big as the Bose SoundLink.
Another piece of the pie here is, of course, the sound. Because of it can provide music in the round, the Zip can be enjoyed from any seat in the room, unlike its competitors where a line-of-sight seat in front of the speaker is the best place to listen. But the feature that truly sets this circular soundmaker apart is its PlayDirect function, which allows it to use Mac's airplay technology in a new way: It is not necessary to have both devices join a WiFi network, as PlayDirect allows any Mac device to pair with the speaker directly. This means you get the convenience of Bluetooth-like pairing, with the better sound quality and strength of a WiFi device.
Unfortunately, Apple monkeyed with the PlayDirect functionality in their most recent release of iOS, so if you use this function, you first need to set your device to a static IP address which limits your Internet connectivity. But you can save the PlayDirect function for when you're out of doors and if you need to use your Mac device as a jukebox and web surfer at the same time while at home, simply switch to using your WiFi network.
There is an AUX jack for non-wireless devices as well as a USB port that both works with and charges iPods. Battery life for a wired connection is about 8 hours, while the PlayDirect functionality cuts that roughly in half. Another nice benefit of the Zip is that comes with a free app that lets you program the location of the speaker (tabletop, floor, outside, etc) as well as choose the type of equalization settings you'd like.
Audyssey Wireless Speakers
Best For: Separtists
Price At Press Time: $249
Most wireless speakers come in a single package. They may have different woofers and tweeters inside them that broadcast sound over a wide direction but ultimately, you only get one speaker, one source of sound. The Audyssey Wireless Speakers however, actually consist of two completely separate speakers, which allows you to place them away from each other to create better sounding stereo separation than the competitors can. The compromise here is that the two speakers need to be connected to each other via a cord, so the system isn't truly wireless, although in terms of getting sound to them, they can connect over the air to any Bluetooth device. Because the speakers connect with a standard speaker wire, the distance you can place them apart from each other is virtually unlimited, however the speakers don't have a battery, so you'll need to place at least one of them near a power outlet. While the speakers each have a tweeter, woofer and two passive bass radiators (located on the back), what truly makes them shine is the digital processing technology they possess that takes the incoming audio signal and works it up into a truly rich sound.
Jawbone Big Jambox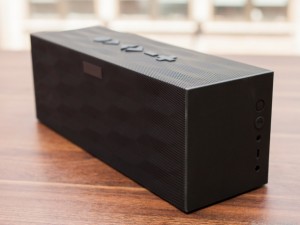 Best For: Dualists
Price At Press Time: $299
In many ways, it was the Jawbone Jambox that sparked the portable bluetooth speaker revolution. Their little rubbery speaker provided big sound in a little package. But in a trend that goes against the typical tide of technology, portable speakers are getting bigger and so is the Jambox. Called simply the "Big" Jambox, this dimpled speaker is about three times the size of its little brother and offers at least that much in sound improvement. The Big Jambox is the most direct competitor of Bose's SoundLink and in terms of sound quality, it seems like the two truly tie. Some reviewers preferred the Bose sound, saying that it is richer at medium volumes, while others vote for the Jambox crediting its ability to sound better at higher volumes. So on that front, its best to let personal taste decide.
However, there are some technical differences between the two speakers that might make a difference. For one, the Jambox can double as a speakerphone both broadcasting and receiving sound. The Jambox also has roughly twice the battery life of the SoundLink, but this comes at a price: it's a bit bigger than the Bose speaker, measuring in at 117 cubic inches versus Soundlink's 93. Finally, the Bose speaker comes with an integrated cover that not only protects the speaker while traveling, but also doubles as a stand. The case is an additional purchase for the Jambox, making the whole package roughly $50 more than the SoundLink.
Logitech Wireless Boombox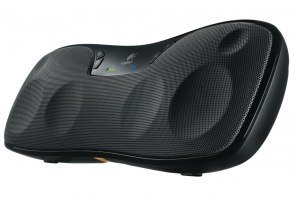 Best For: Budget-Minded Music Lovers
Price At Press Time: $150
If you find the other speakers in this review a little to pricey, you can get good audio joy from the Logitech Wireless Boombox. Its slim and lightweight boomerang-like design hides eight different speakers that deliver a complex and rich sound. A pop-out stand gets the speaker to stay upright and a few simple buttons makes it easy to operate and pair over its Bluetooth-only connection. Where this speaker can't stand up to its more expensive brethren is at high volumes, where it distorts more easily than the others. But it can still crank up to a decent level and is adequate for providing the background to a dinner party in a medium-sized room, if not for powering a backyard party. Speaking of power, battery life is about 6 hours, which increases if an audio device is plugged directly in to the included AUX jack rather being streamed over Bluetooth.