For those of us in the Northern Hemisphere, spring has arrived. Depending on where you live, you might be flooded with peas, asparagus, and strawberries, and already looking forward to stone fruits and corn on the cob, or you might be watching the thermometer hover around 50° and longing for something besides radishes to show up at the farmer's market.
The anticipation that comes along with the first spring produce makes the moment that it finally arrives that much more satisfying – the sight and taste of something young, fresh, and green is exhilarating after months of hardy root vegetables and winter staples.
Here, we've highlighted four quintessential spring vegetables – peas, asparagus, fava beans, and ramps – and found recipes that celebrate them from twelve great food bloggers. Some are vegetarian, some are light, some are filling, but all of them will increase the amount of green – and the depth of flavor – that you'll find on your plate after making them.
PEAS

Tiny, perfect, baby peas, plucked from their pods, have a sweetness that is irresistible on a warm spring day. A bowl full of them, dressed gently with melted butter, is a meal in and of itself. Here, Sara from Home is Where The Cookies Are, takes that bowl full of peas a few steps further. First, she adds water chestnuts and scallions, for crunch and bite. Then, crumbled bacon and cashews, for a salty, savory hit. Last, she tosses the mixture with peppery watercress and a lemon and mustard vinaigrette for a bowl of peas that makes an unforgettable spring meal.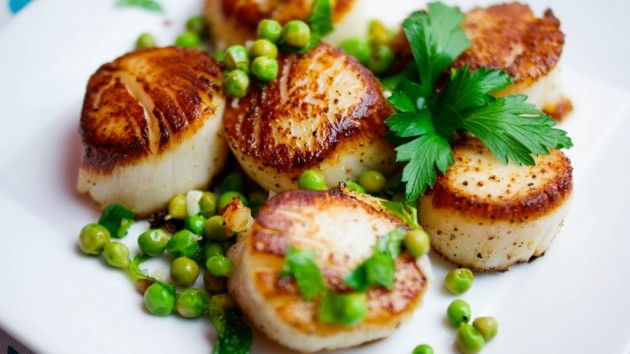 For many of us, peas and pasta bring back childhood memories of Mom trying to sneak a few extra, easy-to-cook vegetables into the only thing we ate with gusto – spaghetti. Some of us were fooled, and others simply ate around them, turning up our noses at anything green. Now that we're grown up, we've realized that peas and pasta is really a fantastic combination, one we'd be happy to eat any day. Lynda of Taste Food has upped the ante, adding pancetta, tender pea shoots, and a creamy cheese sauce to the mix. She says it best herself: "It's the essence of early spring, a season which brings a mixed message of cool rain and gentles sunshine" – this dish totally satisfies the cravings of this transitional time period.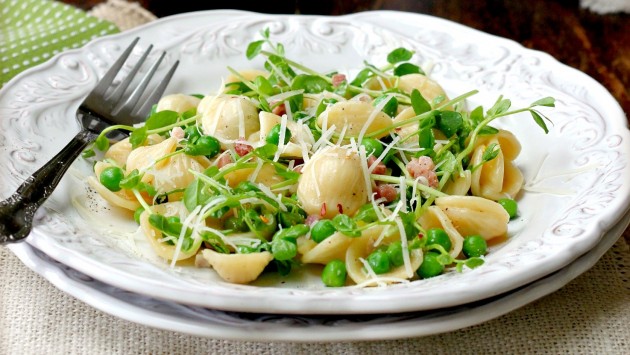 Another common place for peas on your dinner plate? On the side. A side of peas adds a pop of green (as well as a requisite serving of veggies) to any meal. Kathy of Food Wine Thyme serves these vibrant peas, sauteed with lemon juice, parsley, and garlic, with a plate of seared scallops. This meal is healthy, sustainable, easy and fast – blanch the peas for 3 minutes, saute the peas for 2 minutes, then sear the scallops for 6 minutes, and dinner is served!
ASPARAGUS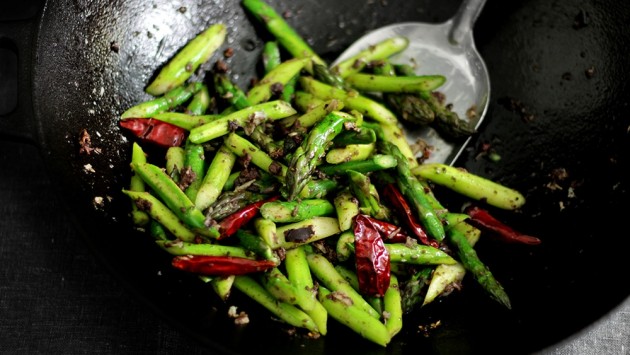 Classic preparations like bacon-wrapped asparagus, asparagus custard tarts, or simple olive-oil roasted asparagus are typically the first things to come to mind when we ponder what to do with our bounty of spring asparagus. But that's a thing of the past, now that we're craving this spicy, flavor-packed, Chinese asparagus stir-fry from Mandy of Lady and Pups. Between the black olive and garlic paste, toasted chilies and peppercorns, and flash-fried asparagus spears, this recipe packs a serious punch – in the best possible way!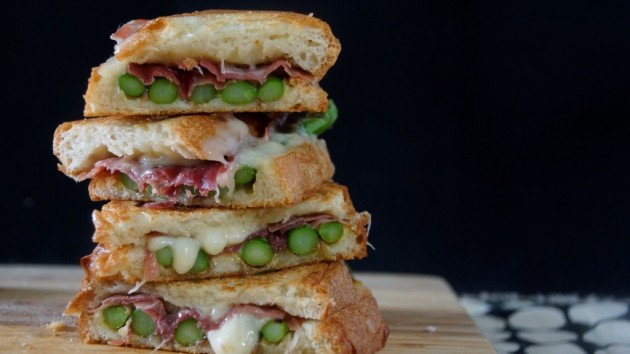 When spring isn't quite coming fast enough (like during the April blizzard when Sarah from Strawberry Plum made this sandwich), trick yourself into acknowledging the best of both seasons with a crossover recipe like this gooey asparagus grilled cheese. Toasted Italian bread, melty fontina cheese, salty speck ham, and a thick smear of mustard admit that the weather conditions are less than ideal, but fresh green asparagus spears hidden in the middle remind you that summer will arrive eventually! In the meantime, enjoy the last of the comfort foods while you don't feel too guilty about it.
A hot slice of pizza is not a seasonal treat – it's pretty much delicious any time of the year, any day of the week, morning, noon, or night. That said, what we put on our pizza varies now and again, and this springtime pizza from Brandon of Kitchen Konfidence will likely be our next choice. Between the thinly shaved asparagus, crumbled bacon, sliced scallions, and melty mozzarella and parmesan cheeses, this pizza has all types of goodness going for it. Fire up the oven, please.
FAVA BEANS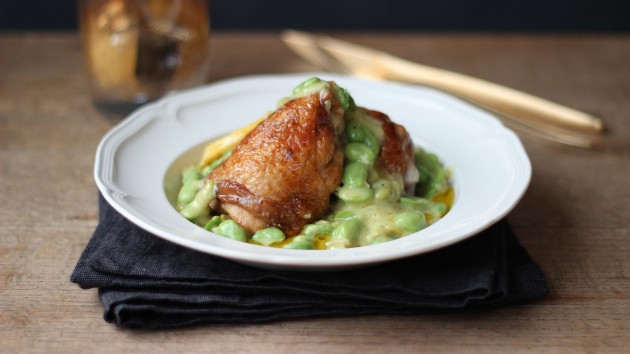 What with two rounds of peeling required, fava beans, or broad beans as they are sometimes called, are a bit labor intensive to prepare, but elegant recipes like this Sous Vide Chicken with Mustard and Fava Beans from Hannah of the Kitchen Alchemist make all that shucking well worth your while. This meal, which includes golden brown chicken thighs, a buttery mustard sauce and favas cooked in butter and cream, would be a stunning dish to serve to company, yet still remains homey and satisfying. Don't worry if you don't have a sous vide machine – Hannah assures us that the chicken is just as delicious when cooked conventionally in the pan sauce.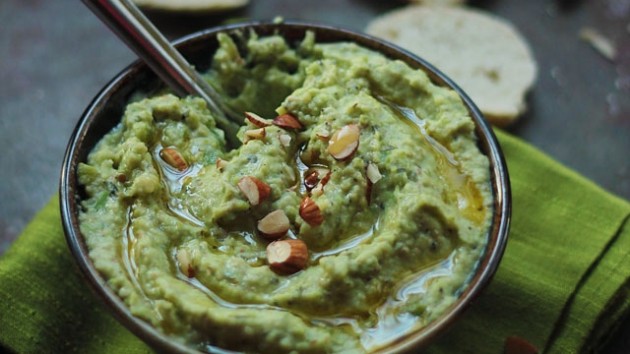 Fava beans are native to North Africa and the Middle East, and are frequently found in the cuisine of those regions. From falafel to hummus, anywhere you might find other hearty beans, you can find recipes that call for fava beans instead. Here, Chinmayie of Love Food Eat creates a Middle-Eastern-inspired dip from sauteed fava beans, roasted almonds, and garlic. It's vibrantly green, and super good for you – slather it on sliced bread for a satisfying and wholesome afternoon snack.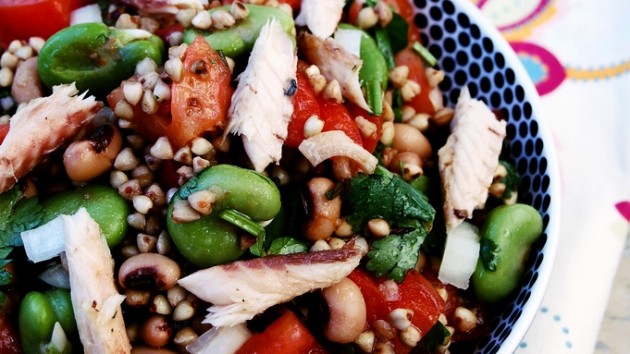 If you are looking for a meal that pretty much satisfies every vitamin/mineral/nutrient need you have, look no further. Just about everything in this powerfood-packed salad from Rosa of Rosa's Yummy Yums is good for you. It's summery yet filling, featuring fresh favas, tomatoes, and onions, cooked kasha and black-eyed peas, protein-full canned mackerel, and a flavorful miso dressing. Lunch is ready!
RAMPS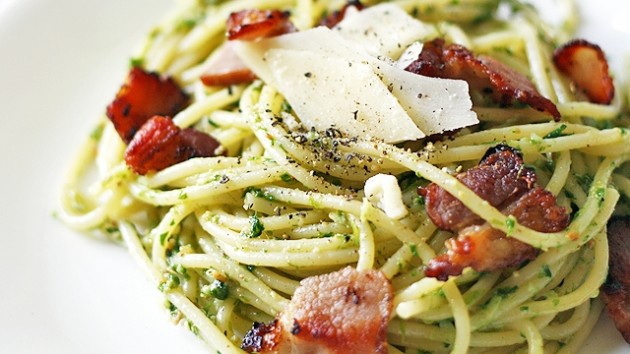 Ramps, which are sometimes labeled as wild leeks, are a wild onion that grows primarily in the Eastern U.S., most notably in Appalachia. Their flavor is a cross between a leek and garlic, and when they come into season they're highly sought after. One of the most favored uses for them is pesto, like this one from Rachel at J'Adore You More, since they provide both the leafy green body and pungent garlicky flavor that a good pesto needs. Rachel serves this pesto simply, with spaghetti, bacon, and Parmesan cheese – a simple and perfect meal for a spring night.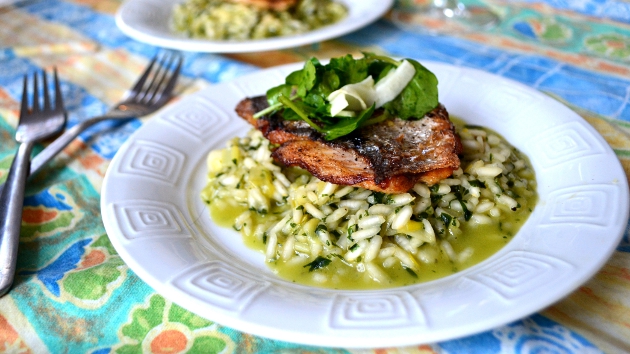 If you want to highlight ramps in a dinner-party worthy dish, consider making this Ramp Risotto with Crispy-Skin Bream from Susan of Susan Eats London. The ramps get chopped and folded into the creamy risotto, which is topped with a quickly fried piece of the bream as well as a raw fennel and watercress salad. It's a grown-up and restrained combination, with a good balance of indulgence and fresh, healthy ingredients.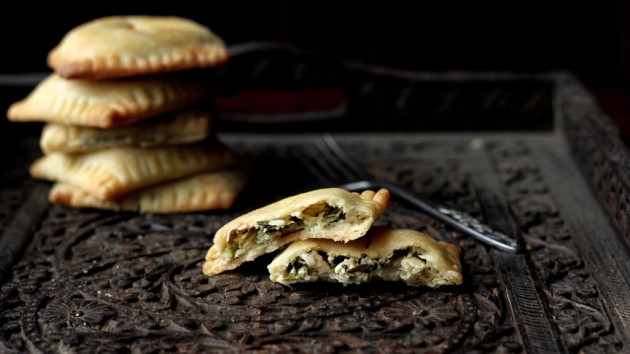 Not sure that you like the sound of oniony, garlicky, leeky ramps? Just read Carey of Reclaiming Provincial's story about how they converted her from a staunch onion-hater to a sometimes-onion-liker and ardent fan of their wild counterpart, and you'll be convinced to give them a try. Now she uses them in all sorts of dishes, including these savory hand pies, which are filled with roasted asparagus, caramelized ramps, ricotta, and Parmesan cheese. These would be a perfect appetizer, afternoon snack, or bring-to-work lunch – just imagine all the jealous stares you'll get when your coworkers see you bite into a cheesy, savory, spring-veggie-filled pie for lunch, then hop into the kitchen and make a batch of these.