50. Paths of Glory (1957)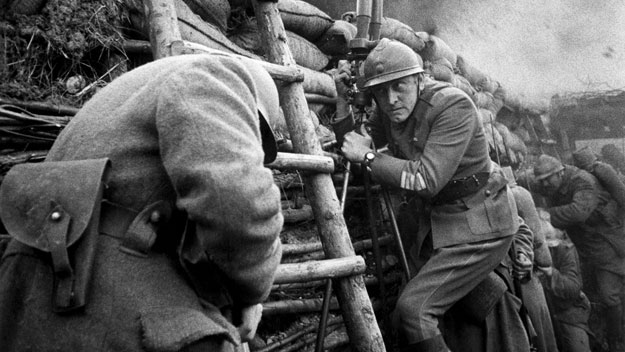 Logline: During World War I, in the formidable trenches, a French military unit is barricaded and far outgunned by enemy forces. To add to the debacle, a field commander is forced to deal with both a war-mongering general and his subordinates who threaten mutiny.

Memorable Moments: In sum of several scenes, the utter and abominable disregard for the lives of their (General Broulard and Gen. Mireau) own soldiers–plus Colonel Dax's (Kirk Douglas) vehement, yet ultimately in vain, defense of the innocent soldiers.

Why People Love It: Paths of glory, one of the first greats of Stanley Kubrick's career, makes a powerful, enduring anti-war statement.

Best Quote: General Broulard (Adolphe Menjou): "There are few things more fundamentally encouraging and stimulating than seeing someone else die."
49. The Shining (1980)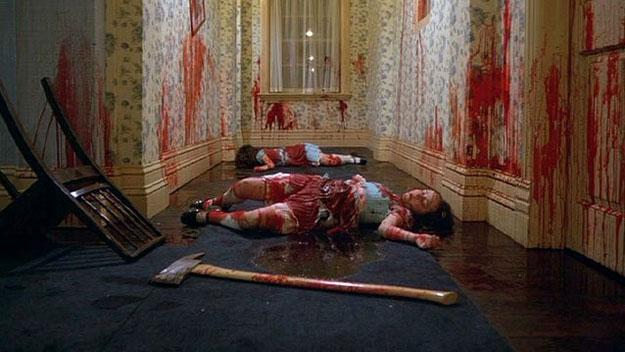 Logline: Shortly after writer Jack Torrance (Jack Nicholson) and family assume their roles as caretakers of an old, snowed-in lodge, Jack is instructed by a ghost to "correct" his family. Jack descends into shear lunacy.

Memorable Moments: Who could ever forget the scene where Wendy Torrance (Shelley Duvall) could do nothing but watch in complete horror as her husband-turned-lunatic (Jack) chops down the door—the only thing standing in between him and her—with an ax?
Why People Love It: Number one: Deranged lunatic who terrorizes family, Jack Nicholson. Two: Creepy, blood-soaked girls and Damien-like little Danny. Three: Deranged lunatic who terrorizes family, Jack Nicholson.

Best Quote: Danny Torrance (Danny Lloyd): "Redrum, Redrum, Redrum"

48. Saving Private Ryan (1998)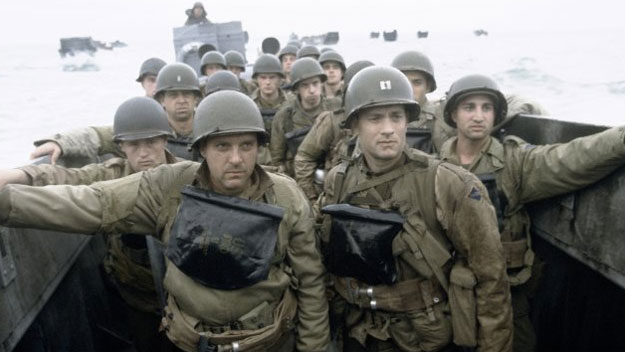 Logline: After the Allied nations storm Normandy beach, a pack of U.S. soldiers (commanded by Captain John Miller (Hanks)) are informed that their new, sole mission is to find and retrieve an American soldier that lost all three of his brothers to the war.
Memorable Moments: The movie would have never been half as great if it weren't for the opening scene, when Allied forces stormed Normandy beach. No one could ever forget the extremely gratuitous, graphic violence that served as an actual portrayal of the real event.
Why People Love It: Partly because it captures the nightmare that was Normandy Beach, and partly because so many veterans and their posterity can so closely relate to the film.

Best Quote: Capt. John Miller (Hanks): "He [Pvt. Ryan] better be worth it. He better go home and cure a disease, or invent a longer-lasting light bulb."
47. The Lord of the Rings: The Return of the King (2003)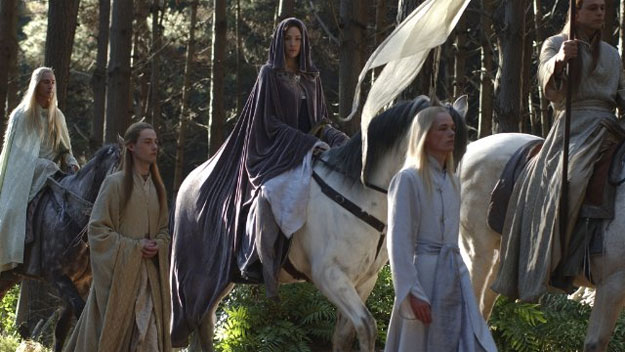 Logline: Frodo Baggins and Sam draw nearer to Mount Doom, while the former Fellowship of the Ring, Rohan, and Gondor prepare to save Middle Earth–for all-out war is waged against the evil overlord Sauron and his minions.

Memorable Moments: One of the too-many-to-list great scenes of LOTR 3 is when Denethor, the deranged Steward of Gondor, is consumed in fire and becomes a running fireball, ultimately falling to his death.

Why People Love It: Most who loved the Lord of the Rings books became infatuated with the movies—partly for the gorgeous, majestic scenes, partly for the fantastical characters and creatures.

Best Quote: Aragorn (Viggo Mortensen): "I see in your eyes the same fear that would take the heart of me. A day may come when the courage of men fails, when we forsake our friends and break all bonds of fellowship, but it is not this day….But it is not this day! This day, we fight!"
46. American History X (1998)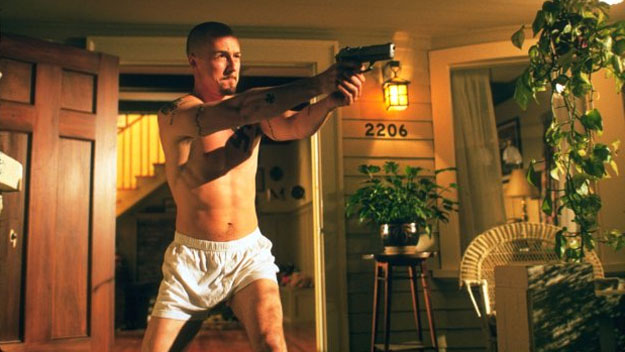 Logline: Derek Vinyard, a former neo-Nazi skinhead and white supremacist, details his life before he went to prison for killing two black men; once paroled, he will stop at nothing to make certain his young brother doesn't follow in his wrongful footsteps.

Memorable Moments: Derek runs from his house and murders two would-be car thieves, shooting one and ordering the other to "bite the curb" (doing a "curb-stomp"), ruthlessly dislocating his jaw and skull.
Why People Love It: AH/X is as culturally relevant today as it was over a decade ago. Although there may be scant white-supremicist skinheads running around anymore–hate, intolerance, and bigotry still exist.

Best Quote: Danny Vinyard (Ed Norton): "One in every three black males is in some phase of the correctional system. Is that a coincidence or do these people have, you know, like a racial commitment to crime?"
45. Alien (1979)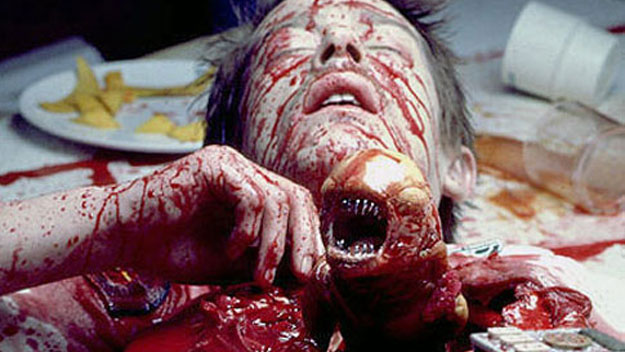 Logline: While attempting to find another apparently-in-trouble ship on a desolate-like planet, the crew of the Nostromo become dinner for slimy, merciless creatures.

Memorable Moments: 1. Observe the photo above 2. remember, this happens to our lovely Ripley (Sigourney Weaver), too. 3. Many a moviegoers' sleep (and stomachs!) was indefinitely interrupted.
Why People Love It: If you pause to think about it, Aliens really jump-started the whole demonic-aliens love affair within the sci-fi genre.

Best Quote: Trailer Tagline: "In space, no one can hear you scream."

44. The Lord of the Rings: The Fellowship of the Ring (2001)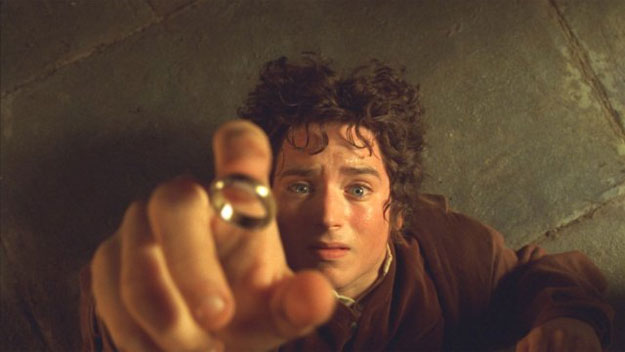 Logline: Young Frodo (Elijah Wood) stumbles upon an ancient, powerful ring (the One Ring of Sauron) that he learns must be destroyed–or Middle Earth will be consumed by everlasting darkness and ruled by the dark overlord.

Memorable Moments: Could the epic standoff between Gandalf and the terrifying, fiery Balrog possibly be any LESS epic? Gandalf, with rod in-hand: "YOU..SHALL..NOT..PASS!"

Why People Love It: LoTR represents a surreal, yet not of which modern day parallelisms couldn't be drawn from, epic battle between the forces of good and evil.
Best Quote: Gandalf the Grey (Ian McKellen): "One Ring to rule them all. One Ring to find them. One Ring to bring them all, and in the darkness bind them."
43. Braveheart (1995)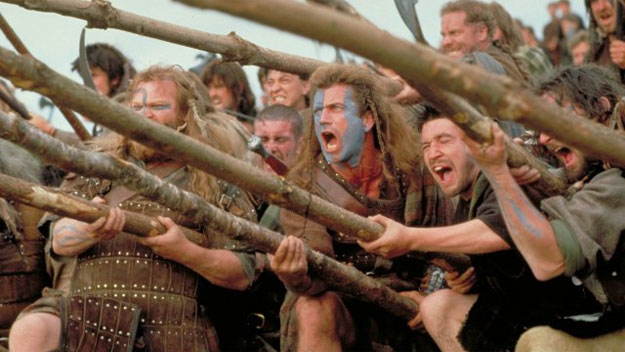 Logline: After losing family members to the Scottish rebellion that wants to overthrow the wrongful "heir" to the throne (Longshanks), William Wallace and Robert the Bruce (Angus McFadyen) begin a perilous journey to overthrow the evil overlord and free Scotland of its tyrannical rule by the English.
Memorable Moments: The ending where Wallace must choose between life (by bowing to the English king's request) or death (by refusing). See Best Quote for his epic last words.
Why People Love It: Like the lesser-known movie 'Rob Roy' (Liam Neeson), Braveheart pays due homage to the epic struggles—between commoners and monarchs—of Middle-Ages Scotland.

Best Quote: William Wallace (Mel Gibson): "Frreeeeeeedddddoooommm…"

42. Forrest Gump (1994)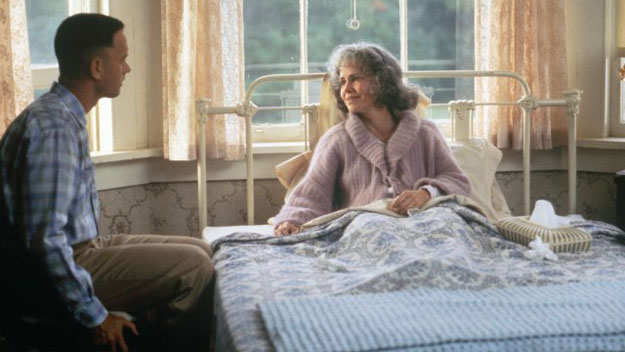 Logline: Despite his handicap, a mentally-challenged man leads an extraordinary life filled with extraordinary events—including serving in Vietnam and meeting U.S. Presidents. Above all, though, he just wants his childhood love, Jenny, to return his love.

Memorable Moments: In one of the most poignant moments in cinematic history, Gump stands weeping over the grave of his lifelong love.
Why People Love It: First, because it was and still is one of Tom Hank's most memorable (and awarded) films. Second, Forrest Gump
Best Quote: The universally renowned catchphrase, "Mama always said life is like a box of chocolates: You never know what you're gonna get"
41. Bicycle Thieves (1948)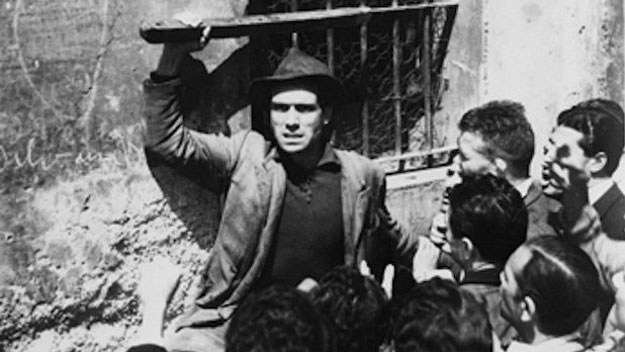 Logline: After World War II and having been out of work for some time, a meagerly father finds work as a poster hanger. However, when the father's bicycle (the most fundamental resource to his job) is stolen, he and his young son give chase to the thief, having a few 'odd' moments themselves.

Memorable Moments: The scene when the son attempts to pee in a public place, and the only thing the father can exclaim is "we don't have time for that" is a good one!
Why People Love It: Bicycle Thieves' simple, straightfoward story isn't only drenched in timeless meaningfulness, it's also the very epitome and benchmark of the once-great Neo-realism/humanistic movement in film.

Best Quote: Antonio (Lamberto Maggiorani): "You live and you suffer."