70. The Wizard of Oz (1939)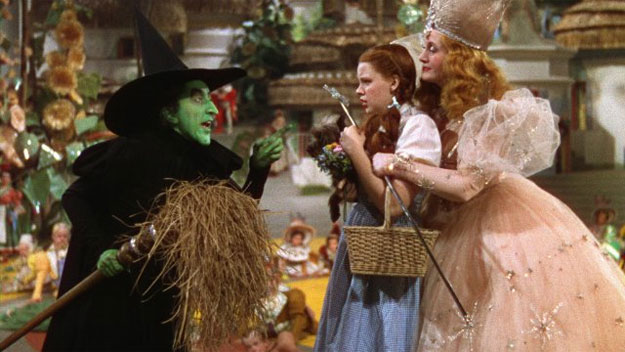 Logline: Dorothy and her dog Toto are swept away by a freak tornado to the land of OZ–a bright, colorful new world with the likes of wicked witches, talking scarecrows, lions, tigers, and of course, bears. To get home, she must trek to Emerald City—but not without the company of fantastical characters.
Memorable Moments: The scene where the Wicked Witch of the West (Margaret Hamilton) burns a house down, plus torches poor Scarecrow. 
Why People Love It: The Wizard of Oz has the same "reminiscence"-effect of E.T. and Stand By Me, especially on Generation Y'ers.

Best Quote: Dorothy (Judy Garland): "Toto, I've got a feeling we're not in Kansas anymore."
69. 8 1/2 (1963)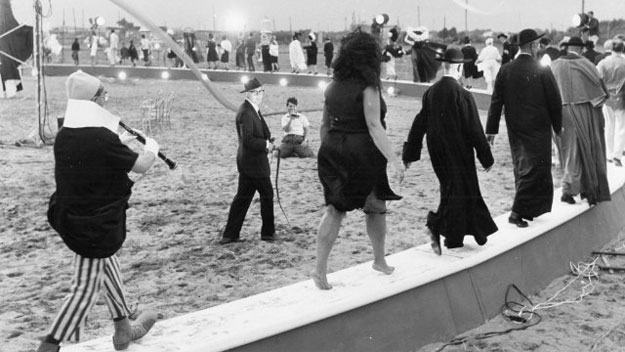 Logline: Guido (who portrays the man (Fellini) who actually directs 8 1/2) is an accomplished director who's trying to finally settle down. However, in addition to being badgered by former colleagues for more work/new ideas, Guido becomes engrossed in reflection of his career.

Memorable Moments: Near the introduction, Guido manifests a dream where he magically floats into the sky. However, he's pulled back to Earth with a rope by fellow crew members.

Why People Love It: Besides being Fellini's last black and white flick, it's nothing less than a magnum opus on the art of self-examination and making a radical switch from realism to personal fantasy, and boasts a colorful cast with more depth than the Grand Canyon.

Best Quote: Guido (Marcello Mastroianni): "The truth is: I do not know… I seek… I have not yet found. Only with this in mind can I feel alive and look at you without shame."
68. Inglourious Basterds (2009)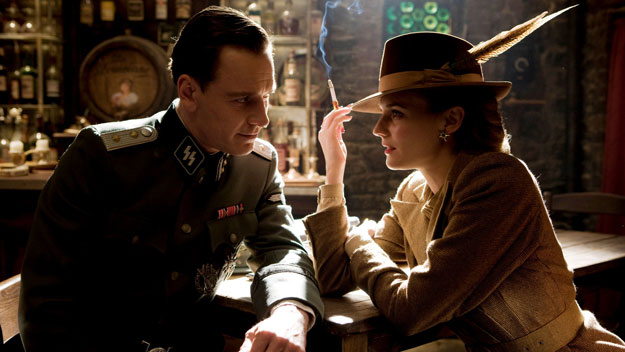 Logline: World War II: The Basterds (spearheaded by Lt. Aldo Raines) comprised of a ragtag team of Jewish Americans in Nazi-occupied France who had only one mission: Find Nazis and kill 'em.

Memorable Moments: Lieutenant Aldo orders one of his sergeants (the 'Bear Jew', played by Eli Roth) to kill a captured Nazi official after he refuses to divulge information on his unit's whereabouts.
Why People Love It: Simple: It A. boasts a stellar cast, including Brad Pitt at the forefront and B. is a based-on-a-true story of French vigilantes (The Basterds) that were notorious for killing Nazis one by one, in fantastical style and succession.
Best Quote: Lt. Aldo Raine (Brad Pitt): "You probably heard we ain't in the prisoner-takin' business; we in the killin' Nazi business. And cousin, business is a-boomin'."
67. Gone with the Wind (1939)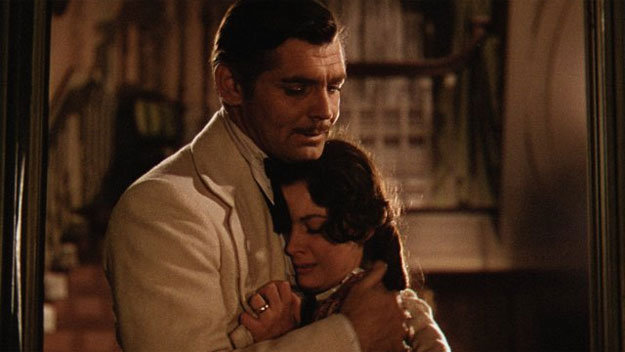 Logline: A contriving woman and rebellious gentleman (oxymoron?) have a tumultuous, even contentious relationship during the Civil War and throughout the Reconstruction era.

Memorable Moments: Melanie (Olivia de Havilland) is in labor and Scarlett (Vivien Leigh) discovers that Prissy, a midwife, lied about her midwifing skills—forcing Scarlett to get her hands messy and help deliver the baby.
Why People Love It: Besides being one of the longest feature films ever (at four hours strong), Gone With the Wind is a love story far better than many of its contemporaries, like Mr. Spark's The Notebook.

Best Quote: Rhett Butler (Clark Gable): "Frankly my dear, I don't give a damn."

66. To Kill a Mockingbird (1962)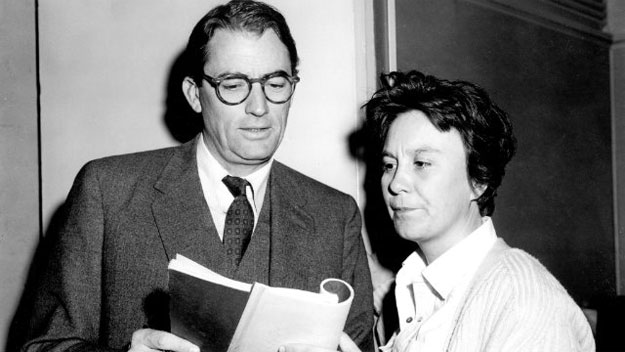 Logline: The time and place is during The Great Depression in a small, racially-segregated Alabama town. Atticus Finch is an attorney that must defend (at the dismay of nearly all the white folk) a black man accused of rape, while teaching his kids to forgo racism.
Memorable Moments: Atticus's closing arguments where commands the jury to "In the name of God…do your duty!", while young Scout and the accused Tom Robinson eagerly observe is one of the finest scenes of this timeless classic.
Why People Love It: If you were born pre-1990, chances are good that To Kill a Mockingbird (which evokes many fond memories of many of our own childhoods) was on your required-reading itinerary. 

Best Quote: Atticus Finch (Peck): "As you grow older, you'll see white men cheat black men every day of your life, but let me tell you something and don't you forget it-whenever a white man does that to a black man, no matter who he is, how rich he is, or how fine a family he comes from, that white man is trash."
65. American Beauty (1999)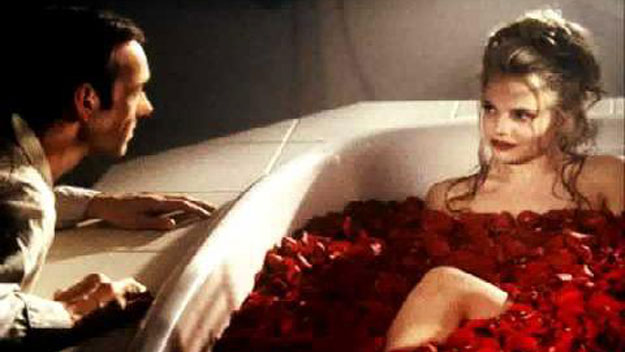 Logline: Lester Burnham, a midlife crisis-stricken suburban dad, whose marriage is slowly but surely falling apart, acknowledges that he must reverse course of his life after lusting for his daughter's schoolmate.
Memorable Moments: In a scene that epitomizes Lester's lackluster marriage: The would-be sex scene where wife Carolyn (Annette Bening) utters the unforgettably naive turn-off, "This is a $4000 sofa upholstered in Italian silk. It is NOT just a couch."

Why People Love It: Because it's about a middle-aged married man and father that lusts over and commits adultery with a high school cheerleader. It is, simply, political incorrectness at its finest and most genuinely entertaining.
Best Quote: Lester Burnham (Spacey): "It's a great thing when you realize you still have the ability to surprise yourself. Makes you wonder what else you can do that you've forgotten about."

64. Raging Bull (1980)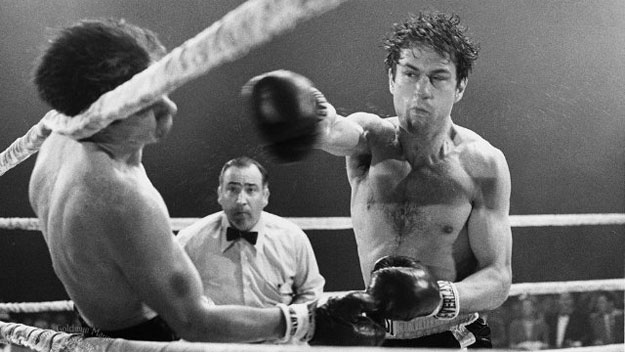 Logline: Jake LaMotta's a force to be reckoned with in the ring, showing opponents zero mercy. However, as he treats his family in a similarly brutal manner–he discovers that he's going to end up a lonely has-been.

Memorable Moments: Such rage, such on-the-verge of destroying everything he has: Jake finally discovers from his wife, Vickie, that she did indeed 'f***' [sic] his brother and practically the whole neighborhood. He unleashes a brutal beating on both his wife and his brother, Joey.
Why People Love It: With Robert De Niro already-then an established star, it wasn't hard for moviegoers to instantly identify with some character (or another) in Raging Bull.

Best Quote: Joey LaMotta (Joe Pesci): "If you win, you win. If you lose, you still win."
63. Back to the Future (1985)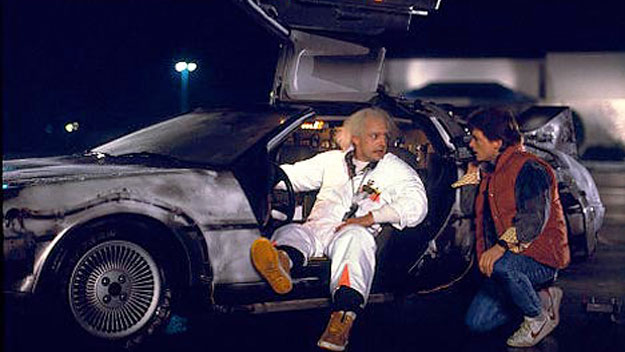 Logline: Marty McFly An ordinary, American teenager–Marty McFly (Michael J. Fox)–gets tele-transported back to 1955 in a DeLorean time machine, built by eccentric scientist Dr. Emmett Brown (Chris Lloyd). During Marty's stay, he must ensure that his then-teen parents fall for one another–otherwise, he'll never even exist.
Memorable Moments: Marty rocks out his young parents' high school prom with "Johnny Be Good", bringing the young couple one step closer to fulfilling their destiny and ensuring that Marty will be born.
Why People Love It: BTF is easily one of the most recognizable sci-fiction movies of the 80's (and perhaps of a generation!).

Best Quote: Emmett Brown (Lloyd) in his last line: "Roads? Where we're going, we don't need roads."
62. Reservoir Dogs (1992)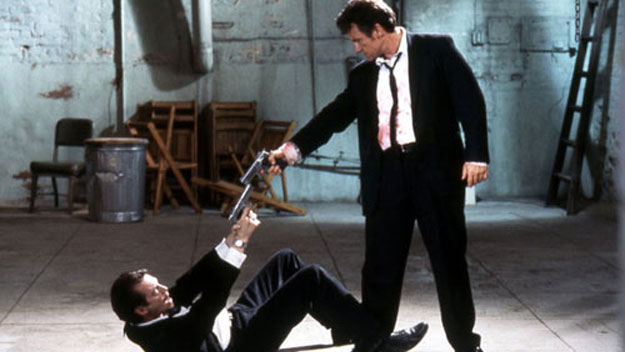 Logline: Reservoir Dogs narrates the before-and-after story of a gang who seriously botches a jewelry store heist; and the oddball Mr. Pink (Steve Buscemi) highly suspects that there's an informant within their ranks. 

Memorable Moments: The unforgettable scene where Mr. Blonde (Michael Madsen) uses a razor blade to cut a rookie cop's ear off is particularly cringe-worthy.
Why People Love It: Reservoir Dogs was, essentially, Tarantino's first big success and the ignition of his directing career.

Best Quote: Mr. Blonde (Michael Madsen): "Eddie, you keep talking like a bitch, I'm gonna slap you like a bitch."
61. Eternal Sunshine of the Spotless Mind (2004)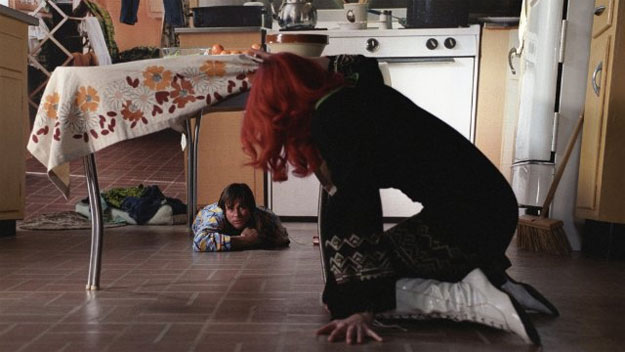 Logline: Joel Barish (Jim Carrey) is devastated when he learns that his girlfriend, Clementine (Kate Winslet), had him physically erased from her mind. To even the score, Joel signs up for the same procedure, but soon regrets it.

Memorable Moments: The collective scenes—actually memories of Joel and Clementine's life together in reverse order—in which memory after memory is erased from Joel's mind.

Why People Love It: Because it's a supremely bizarre, stylish and original take on an often-cliched genre. If you've seen (and liked) Being John Malkovich, this film will simply engross you.

Best Quote: Mary (Kirsten Dunst): "Adults are..like..this mess of sadness and phobias."