80. Die Hard (1988)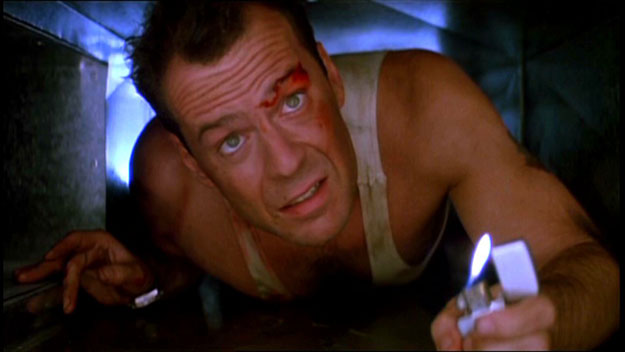 Logline: German Terrorists (who would have ever thought?) storm an L.A. high-rise on Christmas Eve, holding dozens of partiers hostage. Now, it's up to John McClane (Bruce Willis) and his cop friends on the outside to save the day.
Memorable Moments: The exploding elevator scene was pretty phenomenal.
Why People Love It: It's really pretty simple: It was one of Bruce Willis's first action blockbusters, and boy did he kick some terrorist a**!
Best Quote: Officer John McClane (Bruce Willis): "Yippee-ki-yay, motherf***er."

79. Harry Potter and the Deathly Hallows: Part 2 (2011)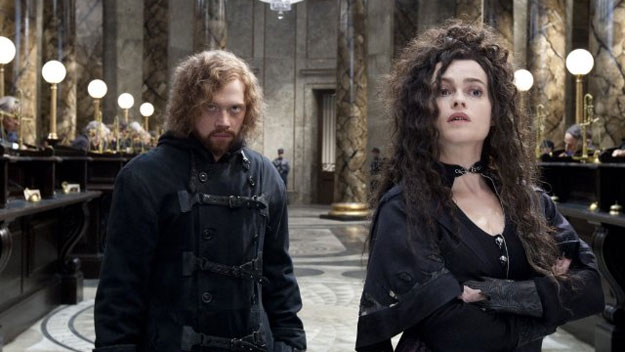 Logline: Approaching the endgame for the Potter adventures, Harry, Ron, and Hermione must recover the rest of the Horcruxes and destroy His Dark Lordness, Lord Voldemort.

Why People Love It: It's the last installment of a decades-long franchise. How could people (specifically, the fans) not love the magical chronicles of Harry Potter?

Best Quote: Harry Potter (Daniel Radcliffe): "How dare you stand where he stood! Tell them how it happened that night. How you looked him in the eye, a man who trusted you, and killed him."

78. No Country for Old Men (2007)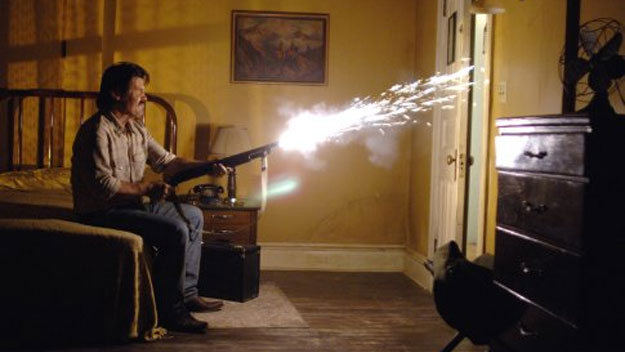 Logline: After Llewelyn (Josh Brolin) discovers dead bodies and $2 million near Middle-of-Nowhere, Texas, he soon realizes that his big payday comes with a life-or-death tradeoff, in the form of a psychopathic serial killer on his tail. And Sheriff Ed Tom Bell, well, he's obviously out-muscled and overwhelmed.
Memorable Moments: One of the most moving, powerful scenes in No Country for Old Men is when Anton (Javier Bardem), who portrays a psychopath brilliantly, holds Llewelyn's wife, Carla Jean (Kelly MacDonald), captive in her small home.
Why People Love It: For one, Tommy Lee Jones plays the role of small-town sheriff flawlessly. Additionally, Chigurh (Bardem) is wickedly convincing as a total psychopath/sociopath, killing folks (as well as sparing some the wrath of his most unusual weapons) at random.

Best Quote: Anxious accountant (Trent Moore) to Anton Chigurh (Javier Bardem): Accountant: "Are you going to shoot me?" Anton: "That Depends. Do you see me?"

77. The Green Mile (1999)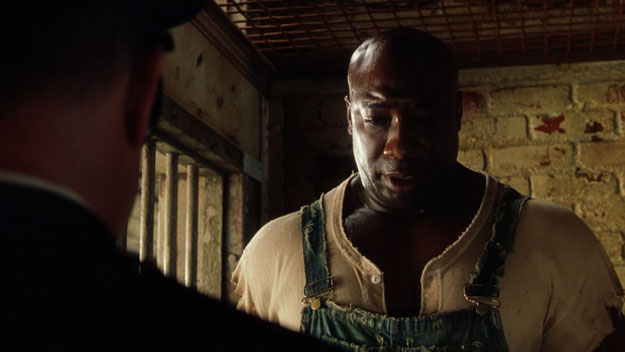 Logline: In the 1930's, Paul Edgecomb (Tom Hanks) and fellow prison guards notice that a prisoner—a burly black man accused of the rape and murder—possesses an extraordinary gift. And along the way, they're increasingly convinced (at odds with the townsfolk) of the gentle giant's innocence.
Memorable Moments: When John Coffey (Michael Clarke Duncan) is brought from jail to the warden's (Hal Moore/James Cromwell) home to (hopefully) 'cure' his bedridden wife, nothing short of a miracle is performed…much to the surprise of the angry, skeptical warden.
Why People Love It: For one, it's based on a best-selling Stephen King novel. Two, the actors/and performances (namely that of Clarke) prove their abilities with flying colors. 

Best Quote: John Coffey (Michael Clarke Duncan): "You can't hide what's in your heart."

76. Full Metal Jacket (1987)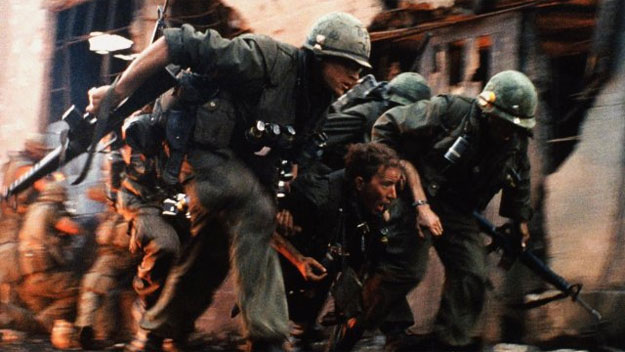 Logline: After enduring the hell on Earth (boot camp)—where merciless, even ruthless Sergeant Hartman turns men into stone-faced killers—a group of marines and a 'military correspondent' portray the Vietnam War for what it really was: A gritty, dehumanizing massacre that served very little, if any, purpose.

Memorable Moments: At the particularly graphic scene when an obviously disturbed Private 'Pyle' (Vincent D'Onofrio) loads his weapon—highly to the dismay of freightened Pvt. 'Joker' (Matthew Modine)—kills his drill sergeant, and blows his own brains out.
Why People Love It: Besides being at the top of most critics' lists for 'best war movie', FMJ is about as raw and unrepentant as war movies (dealing with Vietnam, or 'Nam, in this case) come—exposing the war for what it was: Vain and deplorable.

Best Quote: Sergeant Hartman (R. Lee Ermey): "I bet you're the kind of guy that would f*** a person in the a** and not even have the damn common courtesy to give him a reach-around. I'll be watching you."
75. Life Is Beautiful (1997)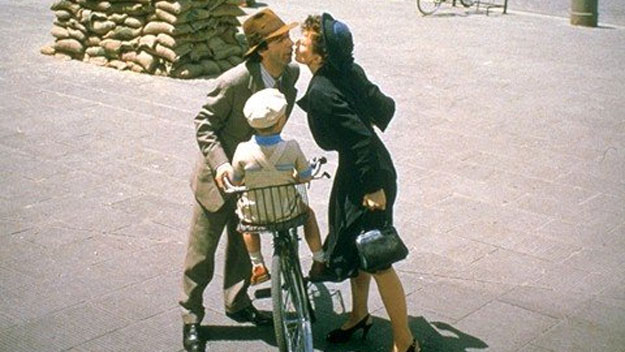 Logline: A charming, comedic Italian Jew (Guido), his wife and son suddenly find themselves in a Nazi death camp in then-occupied Italy. Now, Guido struggles to keep his happy family together and save his son (if only but in spirit) from an almost inevitable death sentence.
Memorable Moments: The point where Guido and his fledgling family are taken away to death camps and onwards. Guido's optimism, even deep in the heart of the nightmarish concentration camps, is stunningly unwavering.
Why People Love It: In the same spirit of Schindler's List and The Diary of Anne Frank (but more much more controversial due to its claimed "charming take on the Holocaust"), Life is Beautiful puts heroic faces on real, but often condemned people amongst one of the most brutal regimes the world's ever seen.

Best Quote: Guido (Roberto Benigni): "How ridiculous. They were just teasing you! There are wood ovens, but there are no people ovens. Putting people in ovens creates too much smoke."
74. Ratatouille (2007)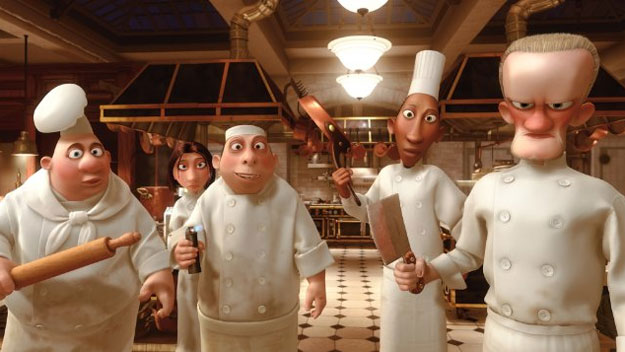 Logline: Remy, a charming rat from rural France, travels to Paris. After realizing that his favorite culinary idol is deceased, he discovers a way to become great in his own way—through helping a young, aspiring chef (Linguini) create masterful dishes.
Memorable Moments: Cut to the scene when Anton Ego, merciless food critic, bites into his decadent dinner at the restaurant. His five or so minute reflection afterwards: Priceless.

Why People Love It: Loosely akin to the more grown-up Cyrano de Bergerac, Ratatouille exemplifies (Disney/Pixar-style) what creatures, even "charming rats with dreams", can accomplish given harmony and understanding with humankind.

Best Quote: Remy (voiceover by Patton Oswalt): "This is me. I think it's apparent that I need to rethink my life a little bit. What's my problem? First of all, I'm a rat. Which means, life is hard. Second, I have a highly developed sense of taste and smell."
73. Leon: The Professional (1994)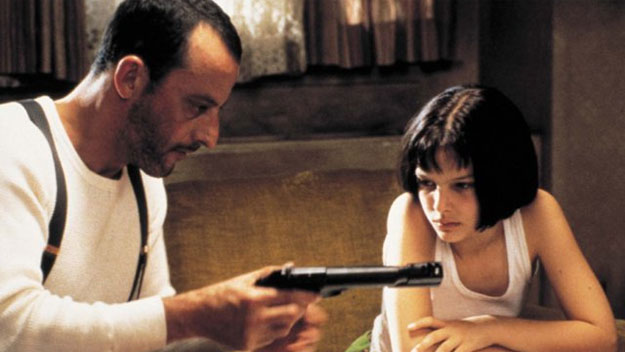 Logline: Young Mathilda (Natalie Portman) from New York witnesses the murder of her family. Seeking refuge in a nearby apartment, she discovers that its tenant–Leon–is an assassin. But he soon obliges to protect young Mathilda and even teach her the ropes of his trade.

Memorable Moments: Stansfield (Gary Oldman) ominously states "I like these calm little moments before the storm"; his goons in tow, he proceeds to deliver a ruthless blitzkrieg upon Mathilda's poor family.
Why People Love It: Folks love it because it seamlessly blends a kind of brilliant, multidimensional aesthetic with Oscar-worthy performances: Endangered (if not extinct) qualities in film these days.

Best Quote: Leon (Reno): "The rifle is the first weapon you learn how to use, because it lets you keep your distance from the client. The closer you get to being a pro, the closer you can get to the client. The knife, for example, is the last thing you learn."
72. Monty Python and the Holy Grail (1975)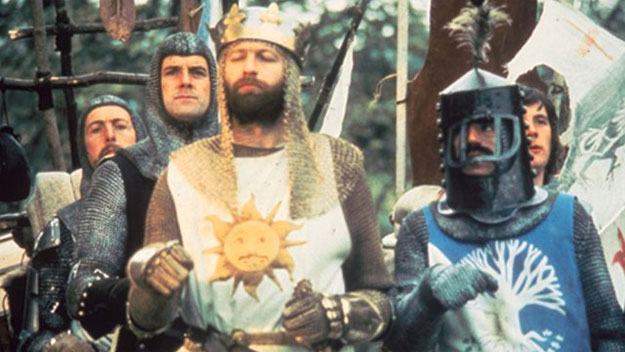 Logline: It's Medieval times and King Arthur and his Knights of the Round Table (that includes legends John Cleese and Eric Idle) are in for one gut-busting, knee-slappin' mocking as he and his Knights set off on one of the goofiest quests ever for the Holy Grail.

Memorable Moments: While there are far too many moments of hilarity that qualify, the Bridge of Death—where King Arthur and his men must answer 5, err 3, questions to pass is gut-busting funny.
Why People Love It: With its wickedly irreverent and random comedy, it might be impossible to claim that Monty Python and the Holy Grail isn't truly one of the Holy Grails of comedy.

Best Quote: French Soldier/Guard (John Cleese): "I don't want to talk to you no more, you empty headed animal food trough wiper. I fart in your general direction. Your mother was a hamster and your father smelt of elderberries."
71. Some Like It Hot (1959)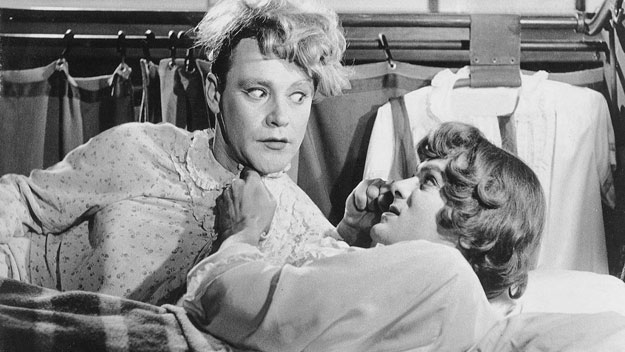 Logline: Two fledgling musicians are at the wrong place, at the wrong time–witnessing the St. Valentine's Day Massacre mob hit. Hilarity ensues when, in order to escape unnoticed, the men turn turn to drag and join an all-girl band led by Sugar Kane (Marilyn Monroe) . 

Memorable Moments: The morning after Jerry (Jack Lemmon) dances with rich playboy Osgood (Joe E. Brown), he admits to Joe (Tony Curtis) that "He (speaking of Osgood) wants to go to the Riviera, but I kinda lean toward Niagara Falls."

Why People Love It: Many people consider it the funniest movie of both Jack Lemmon and Tony Curtis's (playing the lady duo Jerry and Joe) careers.

Best Quote: Osgood Fielding, III (Joe E. Brown): "Well, nobody's perfect."