90. E.T.: The Extra Terrestrial (1982)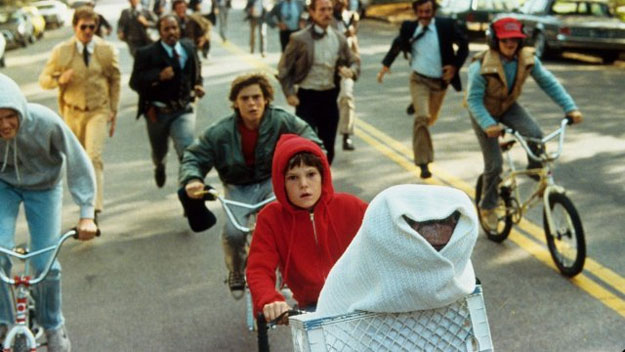 Logline: Elliott (Henry Thomas) is a young loner that encounters an elderly, lost alien. Elliott befriends this "squashy guy"; he knows, though, he must keep E.T. under wraps, especially from the government, while he figures out how to get E.T. home.

Memorable Moments: The whole movie. E.T. is hugely and unmistakably reminiscent of many of our childhoods—notably of Generation X'ers.
Why People Love It: Most alien movies embrace the notion that, that if aliens were to make it to Earth, they'd have sinister intentions. E.T., in contrast, portrays aliens (at least the 'older' ones) as misunderstood, friendly creatures.

Best Quote: E.T. : "E.T….phone home."
89. Gladiator (2000)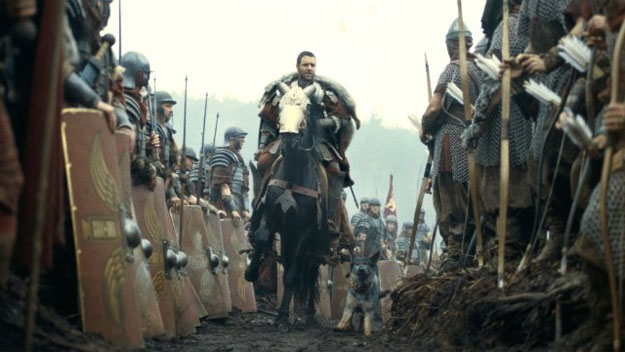 Logline: After murdering General Maximus's wife and child, Commodus (Joaquin Phoenix) twists the knife even further by "stealing" the General's rightful claim to the throne. Now, Maximus has only one reason to live: To avenge (kill) this evil emperor. 

Memorable Moments: The scene where Maximus finally avenges his wife and child's murders by plunging his sword into the belly of Commodus.
Why People Love It: Gladiator is an epic, poignant tale about betrayal and revenge among two people who were the most powerful in all of ancient Rome.

Best Quote: Maximus (Russell Crowe): "At my signal, unleash hell."

88. Terminator 2: Judgment Day (1991)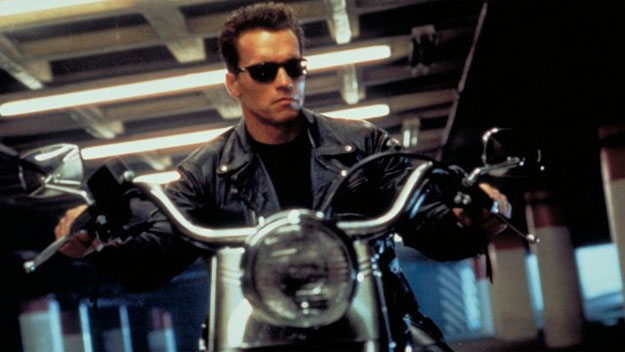 Logline: John Conner must be protected by the very cyborg that tried to kill his mother, Sarah. But now, the Terminator faces an opponent (whose sole mission is to find and kill John Conner) who's more far more advanced than he is.

Memorable Moments: The Terminator propels a police cruiser backwards—Sarah (Linda Hamilton) and John Conner in tow—in an attempt to escape the extremely resilient T-1000 cyborg.
Why People Love It: Much like other sci-fi action movies such as the Alien and Predator franchises, Terminator 2 has proven nothing less than epic to the genre's fans.

Best Quote: The Terminator (Schwarzenegger): "Hasta la vista, baby."
87. Training Day (2001)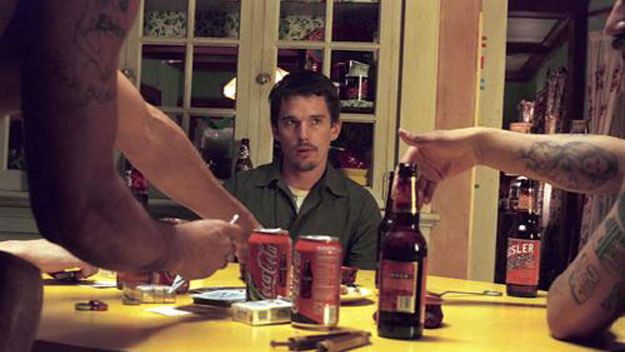 Logline: A rookie cop, Officer Hoyt (Ethan Hawke), becomes a detective under the supervision of Det. Alonzo Harris (Washington). As his 'training day' progresses—and through a series of very questionable (perhaps even illegal) tactics used by Harris to "fight" crime—it becomes obvious to Hoyt that his mentor is anything but a good cop.
Memorable Moments: One defining moment occurs when Detective Alonzo kills his "friend" Roger (Scott Glenn) in the presence of nervous Jake and the rest of Alonzo's corrupt team.
Why People Love It: For one, it stars Denzel Washington: Hard to go wrong there. Second, Training Day is irresistibly good fun in its portrayal of a "respected", veteran detective—with his 'to catch a wolf you gotta be a wolf' philosophy—that's, in reality, actually more criminal than he is cop.

Best Quote: Detective Alonzo Harris (Denzel Washington): "To protect the sheep you gotta catch the wolf, and it takes a wolf to catch a wolf."
86. The Gold Rush (1925)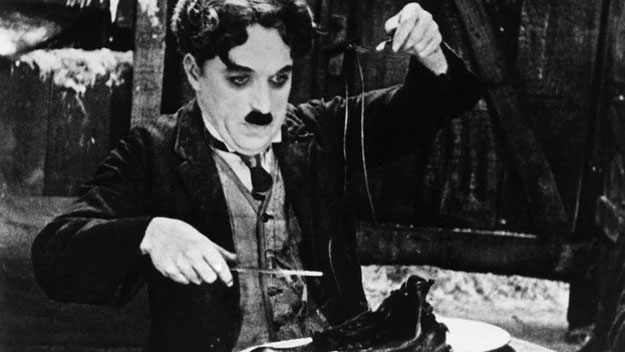 Logline: The Lone Prospector (Charlie Chaplin) travels to Alaska in a quest for gold, but gets more than he bargained for when he becomes involved with some hardy characters and falls head-over-heels for the gorgeous Georgia.

Memorable Moments: In the scene (shown above) entitled "Thanksgiving Dinner", the Tramp boils his boot and shares it with a large, burly dude.
Why People Love It: Movie critics widely dub The Gold Rush, much like the invention of film itself, to be one of the greatest films of the early twentieth-century—and the one that Chaplin remarked that he wanted to be remembered by.

Best Quote: The film is a characteristically-of-the-era silent one.

85. Batman Begins (2005)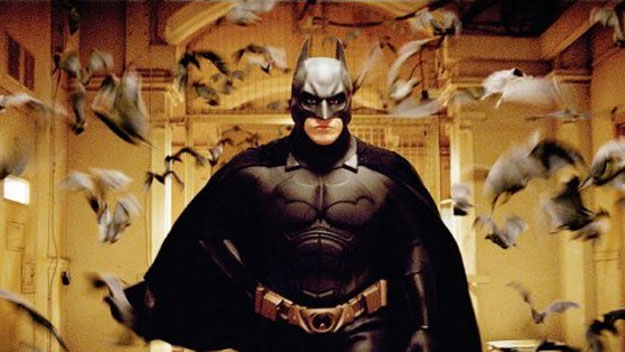 Logline: The prequel to the original, Batman Begins reminisces about Batman's parents' murder and 'pre'-Batman days. After failing to accept guidance from trainer Henri Ducard, Bruce returns home to a crime-ridden Gotham City. He finally gets fed-up, though. Now, the gloves come off and beware the Bat!
Memorable Moments: Undoubtedly it's the icy, mountainous scene that sees Bruce Wayne and Henri Ducard duke it out with swords.
Why People Love It: Common, it's Batman! What would we ever do without the Batmans, Spidermans, and Supermans (and maybe Ironmans?) of the world?

Best Quote: Henri Ducard (Liam Neeson): "Men fear most what they cannot see."
84. The Searchers (1956)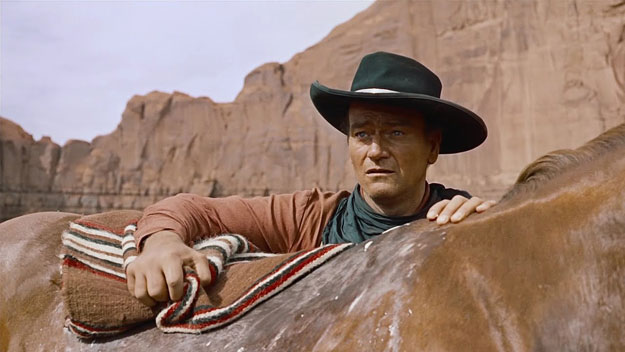 Logline: When a veteran returns home to Texas, an Indian posse wrecks havoc and kidnaps his niece, Debbie. Searching for her for years with nephew Martin, the plot thickens when the nephew suspects that Ethan (John Wayne) is beginning to hate Debbie as much as the Indians themselves.

Memorable Moments: Indisputably the final scene where Edwards, after years of searching and enduring countless tribulations, places his niece back in the hands of her parents on their front porch.
Why People Love It: A gem especially among Baby Boomers, The Searchers essentially laid the foundation for myriad other classics, such Unforgiven, Dances With Wolves, and Jeremiah Johnson.
Best Quote: Ethan Edwards (Wayne) & Reverend Clayton (Ward Bond): Wayne: "Well Reverend, looks like you've got yourself surrounded." Rev: "Yeah, and I figure on getting myself unsurrounded."

83. Sunrise: A Song of Two Humans (1927)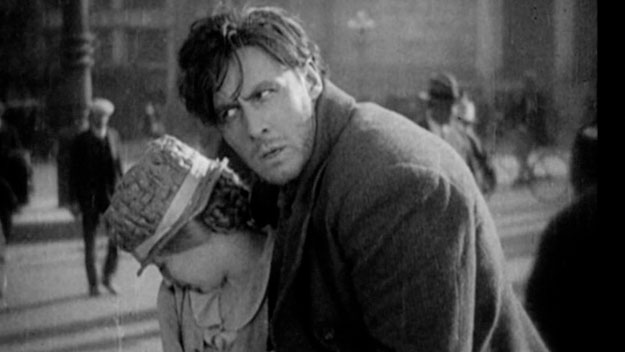 Logline: In this silent film, a manipulative, inner-city woman (the 'Evil Temptress') emotionally enslaves a rural farmer, 'The Man' (George O'Brien), and attempts the unthinkable: To persuade The Man to murder his downtrodden wife.   

Memorable Moments: The turning point of the movie when—whilst The Man and Wife are out on the lake at night—The Man jumps up and almost follows through with the plan that the 'Woman From the City' planted in his head.
Why People Love It: Like The Gold Rush, A Song of Two Humans has also been heralded as one of the greatest silent pictures of all time by many.

82. 2001: A Space Odyssey (1968)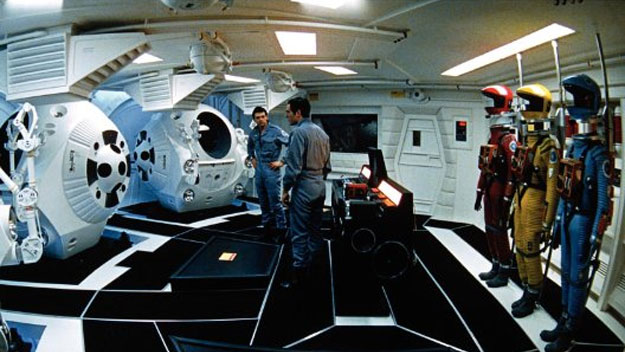 Logline: Astronauts discover a very peculiar monolith on the moon. Using the supercomputer HAL and some of the smartest scientists around, the race to find out where these extraterrestrial beings (and the ultimately intriguing artifacts that they're leaving behind) are begins.

Memorable Moments: An astronaut is sucked up by a "star gate", and the ensuing trip can only be summed up as an acid-induced-like, psychedelic trip of vivid colors and sounds through a space/time-vacuum.

Why People Love It: Because it's just as relevant today, if not more (especially considering the modern-day Creationism vs. Evolution spectacle) than it was upon release. And let's not forget being treated to some trippy visuals!

Best Quote: Dr. Dave Bowman (Keir Dullea): "Open the pod bay doors, HAL."
81. Wild Strawberries (1957)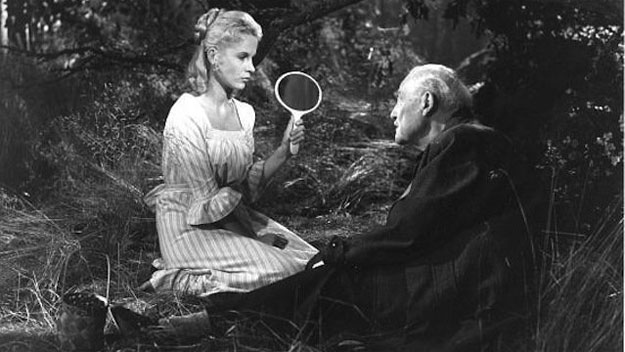 Logline: Isak Borg, an old, miserly professor, must travel to Lund University. Along the way, however, he experiences strong feelings of hollowness and remorse as he reflects on his past 50 years of teaching—surmising that his life as a grouchy hermit has brought about painful feelings of insufficiency and worthlessness.
Memorable Moments: The scene where Dr. Borg, deep in a dream, stands sullenly on an empty, isolated city street and encounters ghastly reminders of his life up until that point.
Why People Love It: Wild Strawberries illustrates how vital it will prove, especially in our golden years, that we live the most fulfilling, sociable lives possible. Without doing that, we risk becoming old, alienated, lonely souls in the end.

Best Quote: Gunnar Sjoberg (Sten Alman): "Me and my wife are dependent on each other. It is out of selfish reasons we haven't beaten each other to death a long time ago."