10. Once Upon a Time in the West (1969)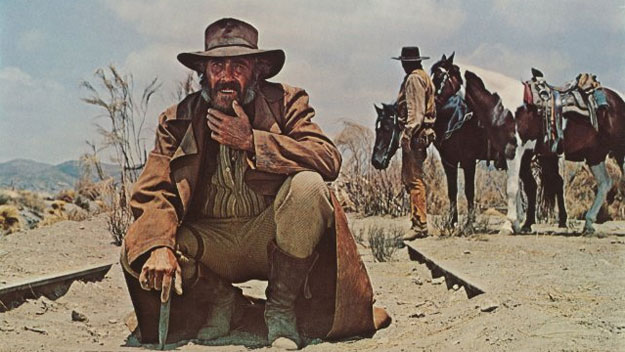 Logline: A southern belle, Mrs. McBain, moves to the far West Frontier to join her family. Upon arrival, though, she finds discovers all were ruthlessly murdered; she has to rely on perfect strangers (outlaws and nomads) to protect her and find her family's killer.

Memorable Moments: Frank (a ruthless outlaw) sexually harasses Jill (Claudia Cardinale). He tells her that she can't even the resist the advances (having been informed that she was previously a hooker in New Orleans) of the very man who murdered her husband.
Why People Love It: Once Upon a Time isn't just your de facto Western flick: Rather, a Western thoroughly blended with metaphor, style, and—perhaps—poetic justice that could be easily deemed A Hot Mess. 

Best Quote: Frank (Henry Fonda): "How can you trust a man who wears both a belt and suspenders? The man can't even trust his own pants"
9. Goodfellas (1990)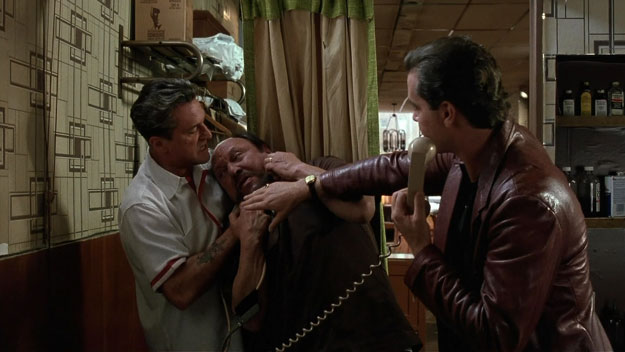 Logline: Henry Hill (Ray Liotta) enters the Italian mob and, as he grows older, rises through the ranks with Jimmy Conway (Robert De Niro) and Tommy De Vito (Joe Pesci) until one day, the whole criminal enterprise (as well as Henry's life) starts to crumble.

Memorable Moments: With Henry Hill narrating, the corpses of several mafia figures (mostly linked to the Lufthansa heist) are paraded in a musical montage.
Why People Love It: An epic film, especially among mob-movie fanatics, that digs deep into the rise and fall of gangster Henry Hill, Goodfellas is the quintessential mafia movie that makes absolutely no excuses for itself and glorifies nothing about the seedy, brutal underworld of the Italian mob.
Best Quote: Jimmy Conway (De Niro): "I'm not mad, I'm proud of you. You took your first pinch like a man and you learn two great things in your life. Look at me, never rat on your friends and always keep your mouth shut."
8. The Godfather: Part II (1974)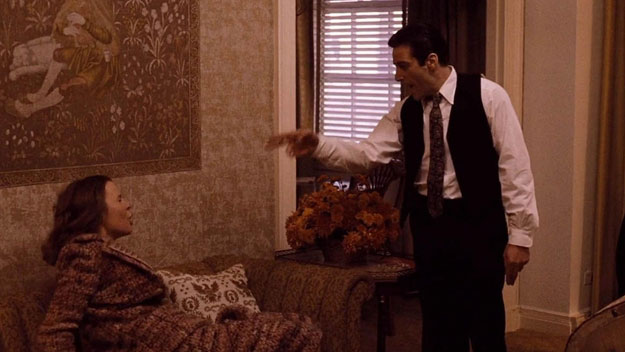 Logline: A sort of "prequel and sequel" hybrid, The Godfather II chronicles Vito's early life in the fledgling 20th-century, as well as his son Michael's (Al Pacino) assumption of power and attempts at expanding the family enterprise in the 50's.

Memorable Moments: At the club, Michael grabs Fredo, "kisses" him and spills the beans: "I knew it was you, Fredo…you broke my heart…..you broke my heart!" Some time later, Fredo is faithfully executed by an assassin, hired by Michael.
Why People Love It: Very few sequels enjoy the luxury of being deemed just as good as the first. The Godfather II is almost universally considered one of those.

Best Quote: Michael Corleone (Al Pacino): "Keep your friends close, but keep your enemies closer."

7. Seven Samurai (1954)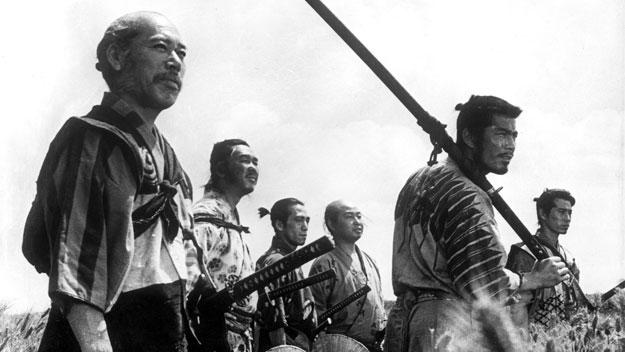 Logline: When a poor farming community is terrorized by bandits, seven former samurai take up arms to defend it. In exchange for defending it and teaching the locals self defense, the village people feed the samurai. 

Memorable Moments: Rice, which a farmer had harvested for the samurai, was stolen from under the farmer responsible for it; sobbing as he picks up leftover grains, Kikuchiyo (Toshiro Mifune) throws him money to purchase more.
Why People Love It: You don't even need an interest in martial arts to appreciate this masterpiece. Seven Samurai is laden with phenomenal action sequences, unforgettable characters, and a timeless story.

Best Quote: Kanbe Shimada (Takashi Shimura): "Danger always strikes when everything seems fine."

6. Inception (2010)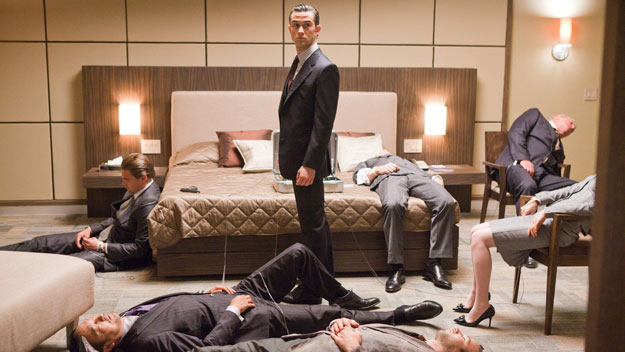 Logline: Cobb (Leo Dicaprio) is one of the most specialized thieves in the world; that is, he enters others' minds through their subconscious (dreams) and sells their secrets to the highest bidder. But soon, Cobb and his team must carry out one of the most unfathomable missions ever, Inception.

Memorable Moments: From the scene pictured above, Arthur (Joseph Gordon-Levitt) fights others in a gravity-defying, spinning hallway—'falling' to the ceiling, walking on walls, and kicking a** mid-air.
Why People Love It:  Inception's premise—intruding into the unconscious mind, which seemingly allows all rules of reality and logic to disappear—is refreshingly original and its plot, nothing short of brilliant.

Best Quote: Yusuf (Dileep Rao): "That many dreams within dreams is too unstable!"
5. The Dark Knight (2008)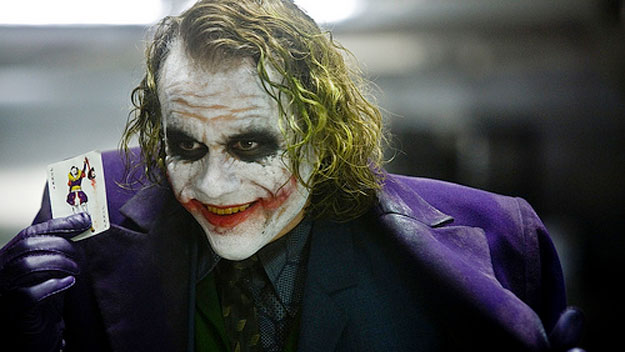 Logline: Batman (Christian Bale) collaborates with Harvey Dent  and Lieutenant Gordan to rid Gotham's streets of organized crime. While initially successful, the trio must now face their most formidable opponent yet: The Joker (Heath Ledger) and minions.

Memorable Moments: Either the phenomenal explosion scene (where The Joker merrily skips off), the jailhouse interrogation scene, or the hospital scene when he visits the horribly-burned Harvey Dent, who subsequently becomes Two-Face.
Why People Love It: The lion's share of Batman enthusiasts agree that The Dark Knight is the best Batman film to-date (and probably ever), thanks in large to an unquestionably great performance by the late (RIP) Heath Ledger.

Best Quote: Harvey Dent (Aaron Eckhart): "The night is darkest just before the dawn. And I promise you, the dawn is coming." |Or| The Joker: "Why so serious?"
4. The Good, the Bad and the Ugly (1966)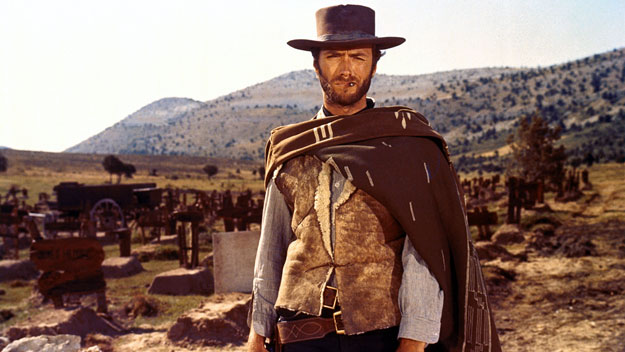 Logline: Three men—Blondie/'The Good' (Clint Eastwood), Tuco/'The Ugly', and Angel Eyes/'The Bad'—learn of a mysterious grave, rumored to be full of gold, in a remote cemetery. It soon becomes apparent, though, that it will be every man for himself in the quest to find this grave.

Memorable Moments: Near the end when Blondie, Tuco, and Angel Eyes find themselves in a three-way duel, and Tuco realizes that Blondie had secretly unloaded his revolver the prior night.
Why People Love It: Maybe it's one of the most memorable Western titles ever, or the utter irony of the title itself? Or perhaps because it stars gun-slingin' Clint Eastwood in one of his best roles ever?

Best Quote: Blondie: "You see, in this world there's two kinds of people, my friend: Those with loaded guns and those who dig. You dig."
3. Schindler's List (1993)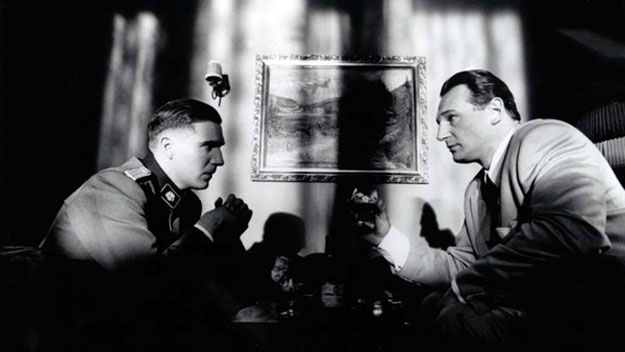 Logline: Nazi-occupied Poland: Businessman Oskar Schindler wasn't initially the loving, humanitarian-type—instead, a savvy profiteer. But witnessing the systematic brutalization of fellow Jews, Schindler (perhaps the most unlikely candidate for 'hero') opens his heart and factory to provide over a thousand Jews refuge from Nazis.
Memorable Moments: Amon Goeth (Ralph Fiennes)—a merciless, wicked Nazi commandant—"falls for" his Jewish maid. After almost raping her, he realizes that even kissing her would be high treason, Goeth delivers a savage beating to her for "seducing" him. 

Why People Love It: Schindler's List symbolizes the love and humanity that each and every one of us is capable of having, despite all of our (possibly) innate/instinctual tendencies toward self-interest, greed, and even having the capacity for murder.

Best Quote: Itzhak Stern (Ben Kingsley): "It's Hebrew, it's from the Talmud. It says, Whoever saves one life, saves the world entire."
2. The Shawshank Redemption (1994)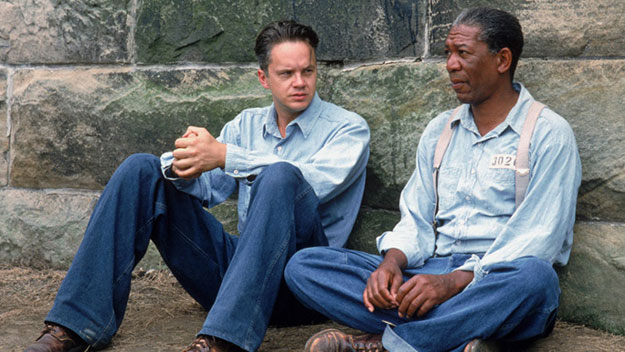 Logline: The Shawshank Redemption, possibly the greatest movie of both Freeman's ("Red") and Robbin's (Andy) careers (make that one of the best movies overall, ever), is an epic tale of two gentlemanly, intellectual prisoners who show remarkable courage and sustain hope against almost all odds of ever getting out of the joint for their old crimes.
Memorable Moments: The epic scene where a just-released, elderly man (James Whitmore)—isolated in his humble New York apartment and missing his 'home' in prison (basically, the only life he'd known for decades) —kicks the chair from underneath his feet and hangs himself.
Why People Love It: Directed by Frank Darabont/written by Stephen King, it symbolizes our struggle between the demons that imprison us (quite literally here) and the hope for better-days-to-come—which is all we really have to cling to in the end.
Best Quote: Andy Dufresne (Robbins): "Get busy living, or get busy dying"
1. The Godfather (1972)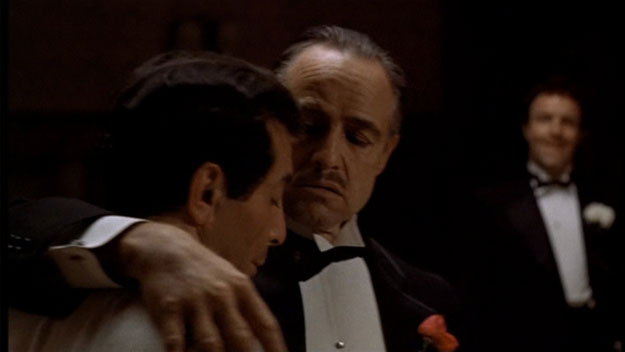 Logline: Vito Corleone, Don of the Corleone crime empire, assumed the helm of the fledgling family 'business' in the 1920's and for almost forty years, built it into a dynasty of wiseguys and ruthless henchmen that would make Al Capone's gang look like clergymen. Decades later, though, he must pass the reigns of his empire to a reluctant Son, Michael Corleone.
Memorable Moments: One of the biggest turning points is when Michael Corleone, whose hands are free of anyone's blood, murders the corrupt policeman (McCluskey) and wiseguy Sollozzo from a rival family.

Why People Love It: People and critics generally swear by Godfather franchise whenever one of these lists pops up. Plus, how can you dismiss a flick that's received Oscar after Oscar after Oscar? Performances are second to none (ever), the riveting score is perfect in all senses, there's nearly flawless editing, and the scenery is fantasticly well-suited.
Best Quote: Vito Corleone (Brando): "I'll make him an offer he can't refuse."