The best movies evoke tears, laughter, terror, reminiscence, and/or mystery in a truly personal way. Anything less (AKA, around 98% of all movies) serves no purpose other than to shove mindless, forgettable fodder in our face and line Hollywood's pockets (Be afraid Michael Bay, be VERY afraid). This is that other, sacred 2%—the Holy Grail of cinema.
Note: "Memorable Moments" may contain spoilers.

100. Pirates of the Caribbean: The Curse of the Black Pearl (2003)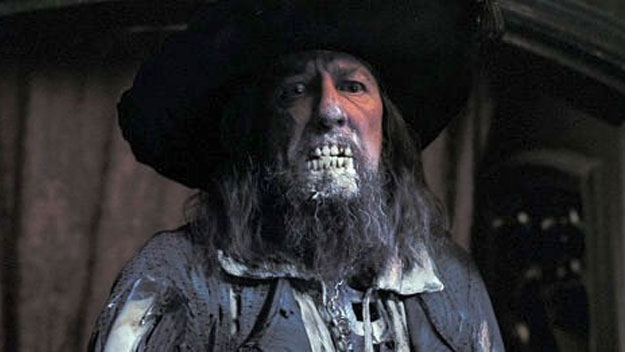 Logline: An eccentric pirate, Captain Jack Sparrow (Johnny Depp), and a savvy blacksmith, Will Turner (Orlando Bloom), embark on a quest to save Elizabeth Swann (and a treasure) from the clutches of cursed Captain Barbossa.

Memorable Moments: Jack almost reaches Port Royal, but his ship springs a leak. In a moment of hilarity, the only part of the ship that remains un-submerged by the time he reaches the harbor is the mast, which he sails in on.

Why People Love It: For many, Depp clearly steals the show. For those who actually enjoy—oh, say plot or fine acting—PoTC is a fun-filled, action-packed adventure on the high seas.

Best Quote: Captain Jack Sparrow (Johnny Depp): "Me, I'm dishonest. And a dishonest man you can always trust to be dishonest. Honestly. It's the honest ones you want to watch out for. Because you can never predict when they're going to do something incredibly…..stupid."

99. Cinderella Man (2005)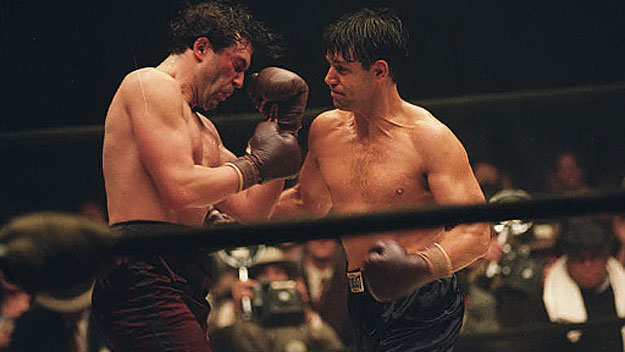 Logline: In the 30's, James Braddock (Russel Crowe) is remembered as a rising boxer. Having fell from grace, though, and—facing near-destitution and threat of becoming a has-been—Braddock gets a rare second chance, rising to legendary proportions in the ring.

Memorable Moments: Braddock must watch on video one of the most feared boxers (Baer) doing the almost unthinkable (even for the violent world of boxing): hitting his opponent so forcefully that his brain comes loose and he dies.

Why People Love It: Cinderella Man is one of the highest acclaimed, most inspirational movies ever that chronicles a near has-been and how he receives the very rare opportunity to redeem himself.

Best Quote: Joe Gould (Paul Giamatti): "Jesus H. Christ! Jesus Mary and Joseph! All the saints and martyrs and Jesus! Did I mention Jesus?!"

98. Indiana Jones and the Last Crusade (1989)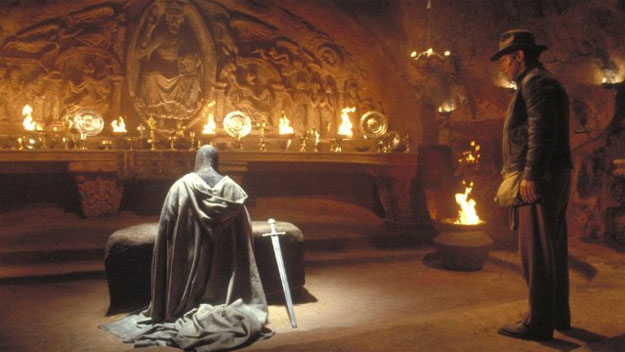 Logline: Years after Indy captured the Ark of the Covenant and survived the Temple of Doom, he's at again. His father Henry in tow, the Joneses traverse Europe to find the Holy Grail, but won't attain it without fending off evil Nazis—who want it for their own nefarious reasons.

Memorable Moments: The scene where Indy and his father, Henry (Sean Connery), find themselves tied together, with Nazi Colonel Vogel punches Indy in the face before departing. Not long after,  the room is engulfed in fire.
Why People Love It: Because it's Indiana Jones, and few people have grown older not loving the adventurous, witty-humor-filled Indy flicks (save for, perhaps, the last one).

Best Quote: Indiana Jones (Ford): "I'm like a bad penny, I always turn up."
97. The Lion King (1994)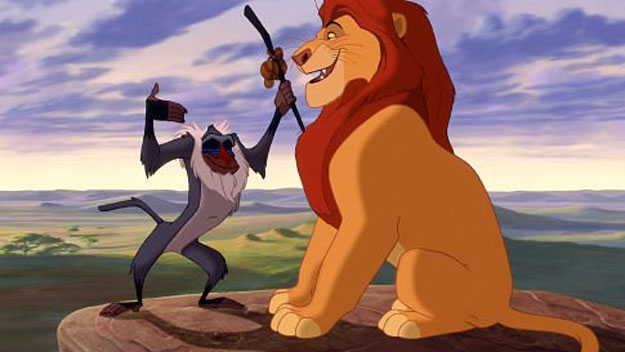 Logline: Young Simba, a lion cub that's tricked into thinking he caused his father's (King Mufasa) death, retreats into the wilderness–enabling the evil Scar, the King's brother, to assume the throne. Years later, grown Simba is convinced to return to his land and reclaim his rightful seat on the throne. 

Memorable Moments: In an early scene—cue Elton John's Circle of Life theme—where Simba, King Mufasa's newborn son, is taken to a rocky ledge and is proudly displayed to the creatures of the Circle of Life.
Why People Love It: Most adults love it because it's loved by children—and keeping them quietly occupied is no doubt a benefit, either. However, both love it because it takes all-too-familiar human dilemmas and personifies them with the help of lions, birds, hyenas and more.

Best Quote: Scar (Jeremy Irons): "Oh, Zazu, do lighten up. Sing something with a little—'bounce' in it!"

96. The Sixth Sense (1999)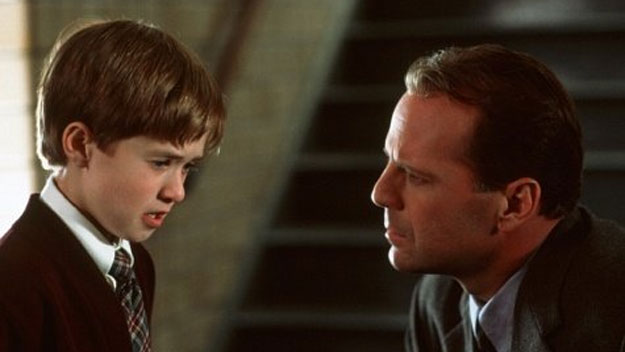 Logline: Young Cole Sear (Osment) has a problem: He sees dead people. And apparently they're in denial about being that way. Now, it's up to child psychologist Malcom Crowe (Willis) to help the boy and to determine what's troubling him so. 

Memorable Moments: Undoubtedly, it's the scene where Cole and mother (Toni Collette) are stuck in traffic. Cole frightens his mother when he begins to speak about the dead people he sees.
Why People Love It: Let's be honest here: This is likely one of the best films, out of the (clears throat) many lemons, that's come from M. Night Shyamalan.

Best Quote: Cole Sear (Haley Joel Osment):"I see dead people."

95. The Big Lebowski (1998)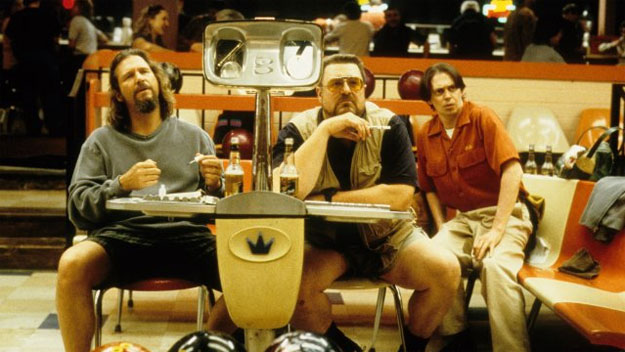 Logline: In a case of mistaken identity, two thugs piss on a man's rug ("The Dude" Lebowsky)—thinking it belongs to the millionaire Lebowski. While attempting compensation from the rich Lebowski, The Dude accepts a one-time job that promises great pay. After enlisting Walter (Goodman), an angry bowling friend and angry, Jewish convert, to help, manipulation leads to even bigger trouble and soon, everyone wants a piece of The Dude.
Memorable Moments: Lunatic war veteran, Walter, informs another bowler (Smokey) of "fouling over the line." When Smokey hesitates to admit fault, Walter pulls his gun, points it, and shouts "you think I'm f***ing around…mark it zero!"

Why People Love It: The Big Lebowski, with help from The Coen brothers no doubt, has a cult following due to its raunchy, quirky, for-adults-only hilarity.

Best Quote: Jeffrey "The Dude" Lebowski (Jeff Bridges)(repeated among others): "That rug really tied the room together."

94. Jaws (1975)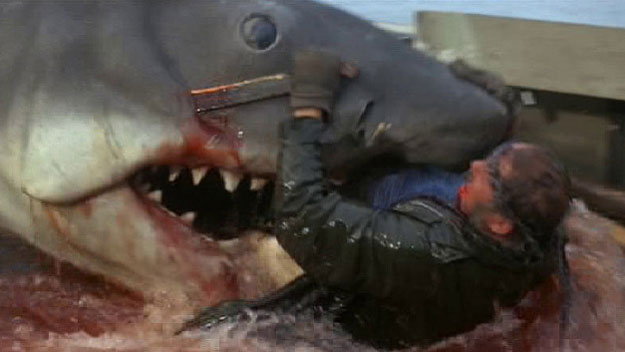 Logline: Three daring men, in response to a huge, killer shark that's terrorizing the Amity's beach, embark on a deep sea mission to find and kill it. Little do they know, though, that this giant shark proves every bit as smart as it is lethal.
Memorable Moments: The scene in the last 15 minutes where Quint—trying to fend off the gargantuan, toothy shark (while the boat is'a sinkin', nonetheless!)—slides into the shark's massive jaws and is mercilessly eaten alive.
Why People Love It: Jaws tapped into one of peoples' most primal fears: That of the unknown. And the unknown here is a man-eating, marine beast which lurks in the deep abyss, waiting for his next victim (meal). Oh, and it's just downright terrifying the first time it's watched.

Best Quote: Martin Brody (Roy Scheider): "You're gonna need a bigger boat."

93. Casino (1995)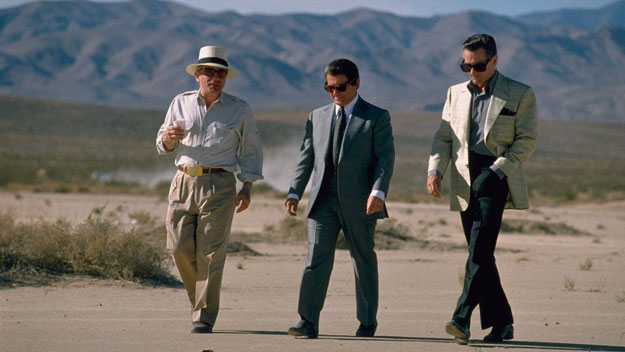 Logline: Nicky Santoro (Joe Pesci) and Ace Rothstein (Robert De Niro) portray two 70's Las Vegas gangsters: Ace, the Tangiers casino's boss and Nicky, his 'strong arm'.  Affairs begin to rapidly deteriorate, though, Ace's marriage to Ginger crumbles and Nicky's obsession with vices will ultimately destroy him.

Memorable Moments: Out of the too-many-to-list great scenes, the scene in the bar where Nicky, in order to "remedy" a situation where Ace is insulted by a patron, brutally, repeatedly bludgeons the jerk (in the neck, nonetheless) with his own pen.
Why People Love It: Specifically, Casino is loved by those who love mafia/gangster genre. And just as the duo did in Goodfellas, Casino, and Raging Bull—De Niro and Pesci give powerful, unrelenting performances.

Best Quote: Sam "Ace" Rothstein: "No matter how big a guy might be, Nicky would take him on. You beat Nicky with fists, he comes back with a bat. You beat him with a knife, he comes back with a gun. And if you beat him with a gun, you better kill him, because he'll keep comin' back and back until one of you is dead."
92. The Bourne Ultimatum (2007)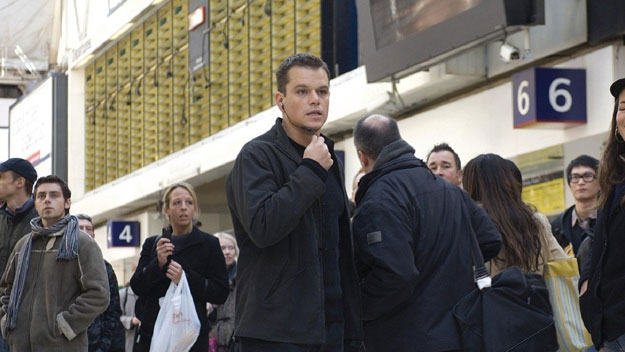 Logline: Project Treadstone has been canned and a new, even more sophisticated one—Operation Blackbriar—emerges to kill former agent Jason Bourne, who seeks to figure out who he really is, at any cost. 

Memorable Moments: Three words: EPIC fight scene. The one where  Jason and Desh (Joey Ansah) stage one of the most realistic, brutal on-screen fights of all time.
Why People Love It: Dozens of reputable film critics have made it clear: This third installment (and apparently, not the last) is the best of the Bourne franchise to-date.

Best Quote: Noah Vosen (David Strathairn): "You know as well as I do decisions made in real time are never perfect. Don't second guess an operation from an armchair."

91. Pan's Labyrinth (2006)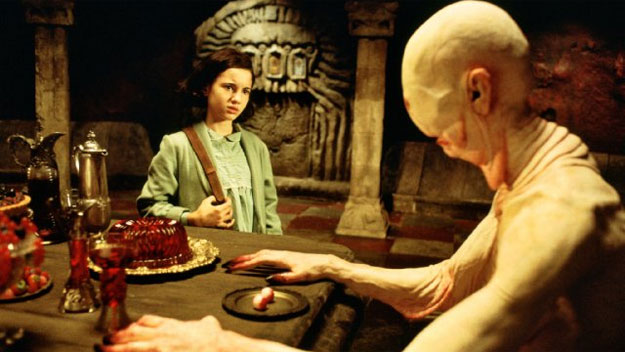 Logline: The time is 1944 and the setting is the mountain retreat of a brutal Spanish army officer. Her mother having eloped with this genocidal tyrant, a young girl is drawn into a fantastical, yet bizarre and sometimes scary, underworld where she's given a mission of her own.
Memorable Moments: The scene where, perhaps by way of some desperately-needed karma, the brutal, fascistic Spanish Captain Vidal (Sergei Lopez) has his cheek cut in half with a razor—at the hands of one of his own household employees.

Why People Love It: Pan's Labyrinth, despite being written and spoken entirely in Spanish (with English captions), is one of the most intriguing and visually-stunning "adult fairy tales" possibly ever. What makes this movie is its masterful parallelism, where grim reality and fanatical daydreams seem to converge on a young Spanish girl.
Best Quote: Carmen (Ariadna Gil): "The Captain has been so good to us…Please, Ofelia…call him father. It's just a word, Ofelia, just a word."