20. Raiders of the Lost Ark (1981)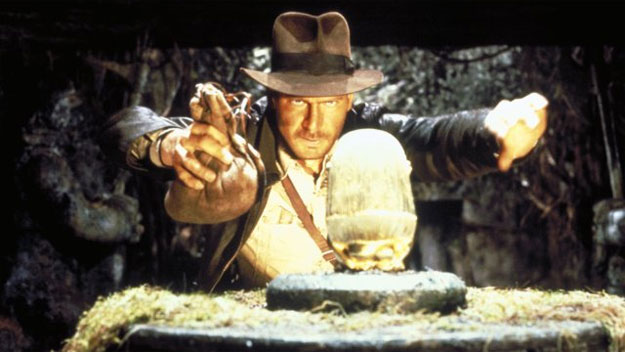 Logline: In 1936, professor/adventurist Indiana 'Indy' Jones was commissioned to find and protect the Ark of the Covenant from the likes of Renee Belloq and evil Nazis.

Memorable Moments: The blood-curdling (at least for fellow 'ophidiophobics') scene in the Well of Souls, where snakes are everywhere in sight, is pretty symbolic of much of the rest of the film.
Why People Love It: It's very hard not to love the film the started the whole Indiana Jones saga—and possibly even a new genre.

Best Quote: Indiana Jones (Harrison Ford): "You want to talk to God?! Let's go see him together, I've got nothing better to do."

19. Fight Club (1999)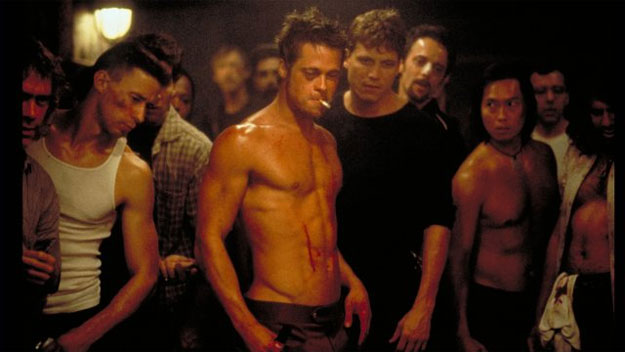 Logline: The Narrator (Ed Norton) is an insomniac and burnt-out 9-5'er. Tyler Durden (Brad Pitt) is a crooked soap salesman and eccentric leader of a gang of angry men. The Narrator joins this 'Fight Club', which pits member against member in all-out, brutal fights.
Memorable Moments: This is a hard one (and will contain spoilers), but it's the ending scene when The Narrator realizes that he and Tyler are the same person—and proceeds to off himself.
Why People Love It: One of Brad Pitt and Edward Norton's most memorable films, Fight Club is a man's-man kind of movie. It takes the stereotypical workaholic and insomniac (and the accompanying, pent-up anger) out of his element and—with the 'help' of Fight Club's leader, Tyler Durden—ushers him into an underground world of ruthless street-fighting and seedy characters.

Best Quote: Tyler Durden (Pitt): "Listen up, maggots. You are not special. You are not a beautiful or unique snowflake. You're the same decaying organic matter as everything else."' & Tyler Durden: "Welcome to Fight Club. The first rule of Fight Club is: you do not talk about Fight Club"
18. Star Wars: Episode IV – A New Hope (1977)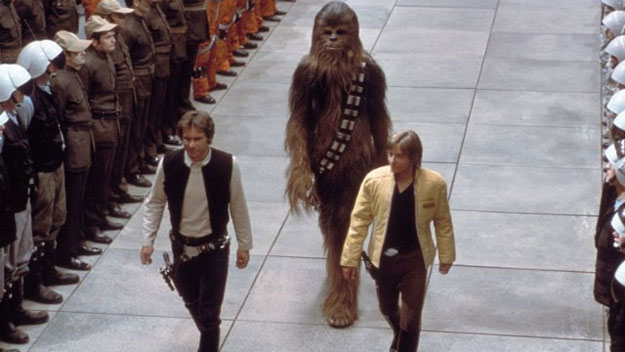 Logline: When Luke (Mark Hamill) learns that he must save the rebellion's leader, Princess Leia, he teams up with Chewbacca, C-3PO, RD-D2, and Han Solo, knowing that one of their greatest and most fearsome obstacles lies in their way—the Empirical Death Star.

Memorable Moments: In the epic climax to the Mos Eisley bar scene (where some pretty bizarre-yet-charming creatures lounge), Han Solo (Harrison Ford) fantastically dispatches of Greedo. 

Why People Love It: It's Star Wars: One of the few "bigger" movie franchises that people either love, hate, or could care less about–very little middle ground.

Best Quote: Obi-Wan Kenobi (Alec Guinness): "The Force is what gives a Jedi his power. It's an energy field created by all living things. It surrounds us and penetrates us. It binds the galaxy together."
17. 12 Angry Men (1957)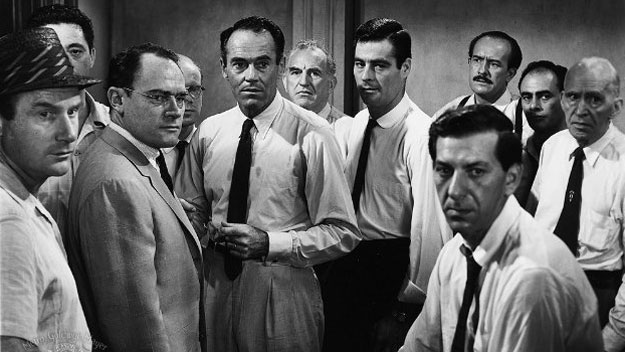 Logline: Once a young Latino's (who's accused of murdering his father) trial has commenced, 12 wary men–initially ready to convict right off and split–must now (thanks to a skeptical juror) seriously deliberate the youngster's fate.

Memorable Moments: One of the defining moments occurs when jurors # 2 and 3 attempt to persuade the only dissenting juror, Juror #8 (Henry Fonda), to vote in favor of 'guilty'.
Why People Love It: 12 Angry Men works has worked so well with audiences (even five decades later) because it epitomizes the courage one man displays when the overwhelming majority are eager to convict and go about their lives.

Best Quote: Juror #6 (Ed Binns): "Well, I'm not used to supposin'. I'm just a workin' man. My boss does all the supposin' – but I'll try one. Supposin' you talk us all out of this and, uh, the kid really did knife his father?"
16. Casablanca (1942)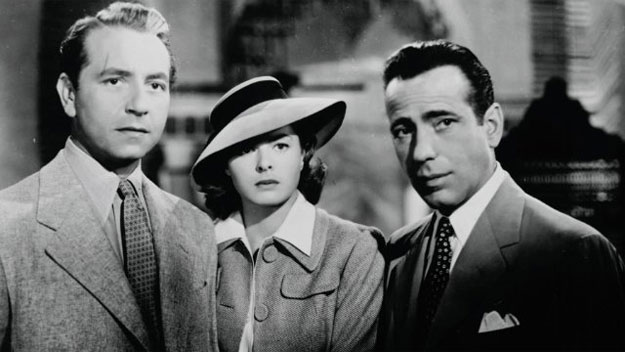 Logline: Rick Blaine (Humphrey Bogart), owner of a popular nightclub in Africa, happens upon a former lover, Ilsa, and her Czech husband (who's wanted by Nazis). Forced to choose between love and virtue, Rick decides to help them by rebelling against Vichy/Nazi forces, while secretly planning to run away with Ilsa.  

Memorable Moments: For all of you that love a good, passionate on-screen kiss, the final scene—when Rick and Ilsa (Ingrid Bergman) cement their love for one another and lock lips—is very much your cup of tea.

Why People Love It: It's literally impossible to reminisce about classic films of the 1940s/'50s-era without so much as a mention of Casablanca—a timeless, enduring symbol of Hollywood-style romance.

Best Quote:  Rick Blaine (Humphrey Bogart): "Here's looking at you, kid." & Rick Blaine: "Of all the gin joints in all the towns in all the world, she walks into mine."
15. Rear Window (1954)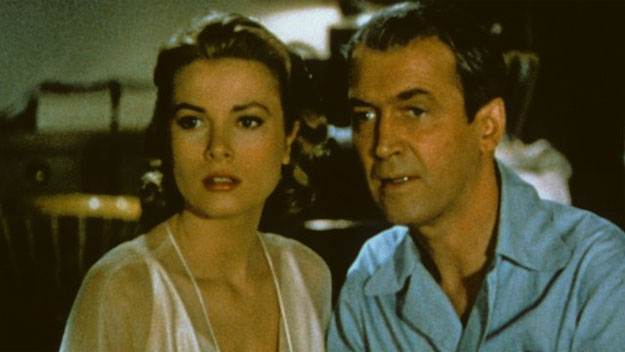 Logline: When photographer L.B. "Jeff" Jeffries is injured on the job and bound to his NY apartment, he becomes obsessed with observing his neighbors through his 'rear window'. Before long, though, he highly suspects one of them of murder, and puts a couple of acquaintances on the case.
Memorable Moments: The scenes where the ever-voyeuristic Jeff witnesses Mr. Thorwald (Raymond Burr) with 'suspicious' items such as a saw, large knife, and large crate—all in the absence of his (Thorwald's) formerly-bedridden, invalid wife.

Why People Love It: Yet another of Alfred Hitchcock's finest works, Rear Window is a fun adventure in voyeurism and the sometimes-serious consequences of.
Best Quote: Lisa (Grace Kelly): "A murderer would never parade his crime in front of an open window."
14. Pulp Fiction (1994)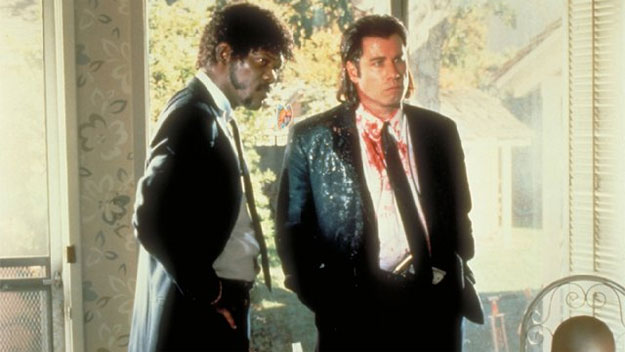 Logline: In a quartet of story lines, two henchmen (Jules and Vincent), a mafia boss (Marsellus) and his wife, a boxer, and a thuggish couple all become entangled in crime and corruption and will, ultimately, realize that their lives are intertwined.

Memorable Moments: Near the end when Jules and Vincent, grabbing some grub at a diner, must deal with a man-and-woman robbery. Epic.
Why People Love It: Perhaps most importantly, it's a Tarantino flick. That granted, Pulp Fiction is instantly recognizable as a super dark, yet hilarious and eccentric, film icon from the mid-90s.

Best Quote: Jules (Sam Jackson): "S*** N*gro! That's all you had to say!"
13. Citizen Kane (1941)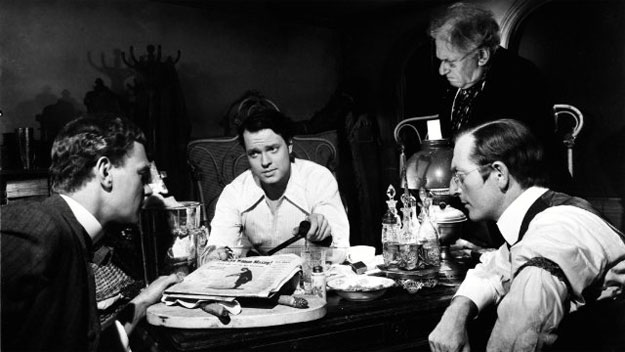 Logline: On a mission to discover the truth about the last word spoken ("Rosebud") by millionaire Charles Foster Kane, a posse of reporters chronicle the man's rise to the top of the corporate food chain and his show, agonizing fall into exile in his fortress-like home, Xanadu.

Memorable Moments: The opening sequence—with its shocking-for-the-time aesthetic—when Kane, owner of The New York Inquirer, utters 'Rosebud' and keels over.
Why People Love It: Many consider it the crowning achievement of film, both then and still in modernity. Others cherish the storyline, which essentially espouses many untruths about capitalism in ordinarily down-to-Earth fashion.

Best Quote: Charles Foster Kane (Orson Welles): "Don't believe everything you hear on the radio."
12. Star Wars: Episode V – The Empire Strikes Back (1980)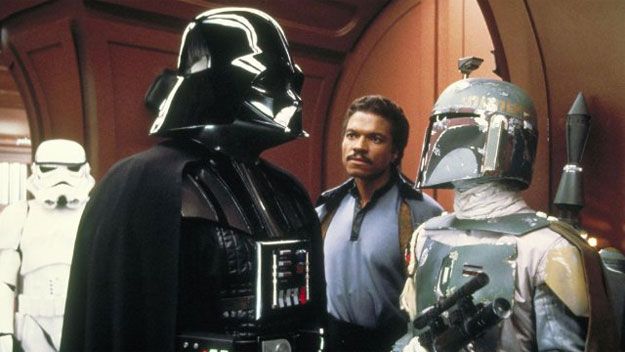 Logline: At the instruction of Yoda, Luke (Mark Hamill) and R2-D2 receive coveted Jedi training in preparation to save his kidnapped friends (Princess Leia, C-3PO, and Han Solo) from the clutches of the dark lord Vader.
Memorable Moments: In one of the most memorable scenes of the whole franchise is one of the most repeated (often in jest) quotes in cinema history: Darth Vader to Luke "No…I am your father."
Why People Love It: The Empire Strikes Back is widely considered the best of the series, boasting an even deeper and more sophisticated story than even A New Hope.

Best Quote: Yoda (Frank Oz): "No. Try not. Do… or do not. There is no try."
11. One Flew Over the Cuckoo's Nest (1975)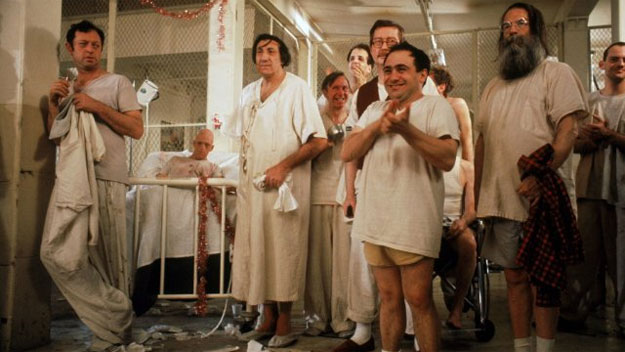 Logline: To shirk his duties in prison, R.P McMurphy fakes insanity. Transferred to a mental institution, he tries hard to develop rapport among the crazies—while spearheading a revolt against a fascistic head nurse.

Memorable Moments: The scene where McMurphy, in all his charming quirkiness, vividly enacts an imaginary commentary of the '63 World Series to his mellow friends, who are barred from watching the real thing on TV. 

Why People Love It: It's one of Jack Nicholson's first movies that made the world fall in love with his distinctive character: Funny, sarcastic, looney-in-a sane way, and at times, scathing.
Best Quote: R.P. McMurphy (Nicholson): "Why don't ya shut your damn mouth and play some music.?"