60. The Passion of Joan of Arc (1928)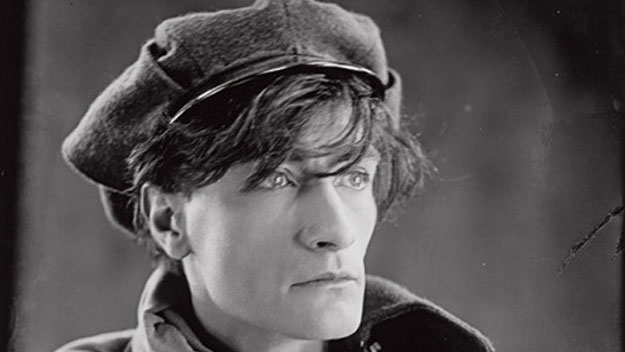 Logline: Circa the mid-15th century, Jeanne d'Arc (Maria Falconetti)—who claims of divine visions—is charged by a powerful, ecclesiastical court with the crime of heresy and burned at the stake.

Memorable Moments: Perhaps most ostensibly, the scene that sees Joan—fearless and steadfast—being consumed at the stake by fire.  Or, the "standoff" between Joan and the English judges, uttering meek, staccato answers to scolding questions.
Why People Love It: Besides the surreal, majestically-captured atmosphere, Maria Falconetti (Joan, 'Maid of Orleans') lends the most flawless, unbeatable performance in this silent-era gem. Period. 

Best Quote: Jeanne d'Arc: [Speaking to God] "Will I be with You tonight in Paradise?"
59. Singin' in the Rain (1952)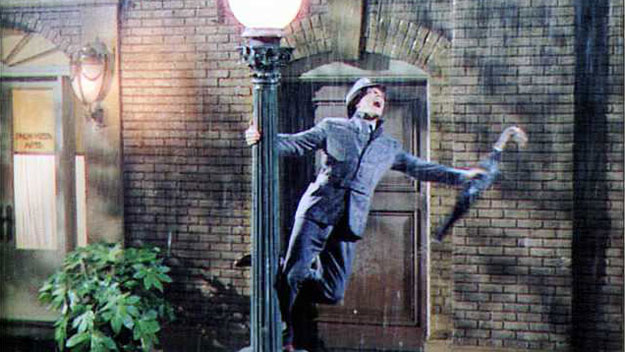 Logline: Cosmo and Don Lockwood (Gene Kelly) build a silent-movie business, where lovers—on-screen and off—seem to come and go. However, one of the biggest challenges will be transitioning to movies with sound, while Don begins to fall for newly-hired actress Kathy Selden (Debbie Reynolds).

Memorable Moments: The rain is pouring, Don—umbrella at hand— steps outside and shoos his ride away, breaking into a song and dance routine that captures not only the essence of the film, but the epitome of what pure giddiness resembles.

Why People Love It: Are you kiddin'? Singing in the Rain is only one of best classic movies ever—recognizable in over 65 countries—and a total homage to the early days of television.

Best Quote: Cosmo Brown (Donald O'Connor): "What's the first thing an actor learns? "The show must go on!' Come rain, come shine, come snow, come sleet, the show MUST go on!"
58. Stand By Me (1986)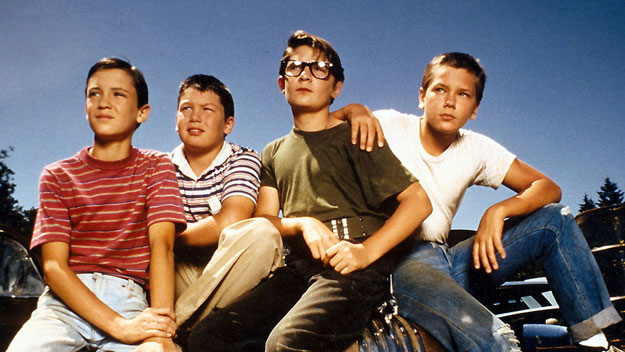 Logline: In Castle Rock, Oregon, four boys—Gordie, Teddy, Vern, and Chris—depart to find the rumored corpse of another kid. Along the way, though, many life lessons are learned and the boys are thrust into the adult world seemingly overnight.

Memorable Moments: By far, the scene where the four boys, haven chosen to trek across a long train bridge, must outrun the train or face certain death.
Why People Love It: In the same nostalgic way that E.T. does, Stand By Me almost forcefully evokes memories of youthfulness and our once-inseparable childhood friends (for those growing up in the 80's, anyhow), through bad and good times and the mounting pressures of becoming adults.

Best Quote: The Writer/Narrator (Richard Dreyfuss): "I never had any friends later on like the ones I had when I was twelve. Jesus, does anyone?"
57. Toy Story 3 (2010)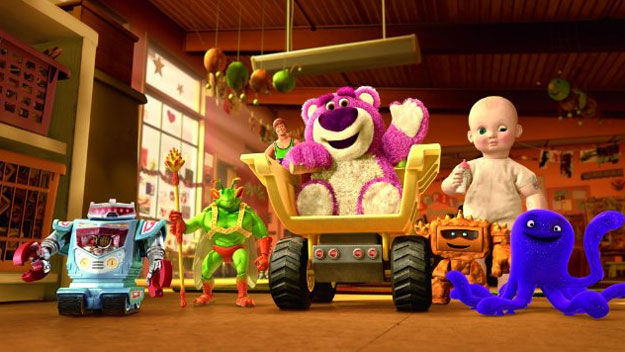 Logline: This go-round, the toys' owner (Andy) is college-bound, leaving his toys to a daycare full obnoxious children. After meeting a few new characters—a thespian hedgehog named Mr. Pricklepants, for one—the toys begin planning their big escape.

Memorable Moments: When the Toy Story gang, in perhaps one of the most heart-felt moments of the entire franchise, faces death inside an incinerator, they firmly grasp each others' hands and await either a last-second rescue, or certain, fiery death.

Why People Love It: Many moviegoers, including the lot of professional movie critics, agree that Toy Story 3 is probably the best one of all—combining hilarity, adventure, and even poignancy.
Best Quote: Andy (Voice by John Morris): "Now Woody, he's been my pal for as long as I can remember. He's brave, like a cowboy should be. And kind, and smart. But the thing that makes Woody special, is he'll never give up on you… ever. He'll be there for you, no matter what."
56. The Pianist (2002)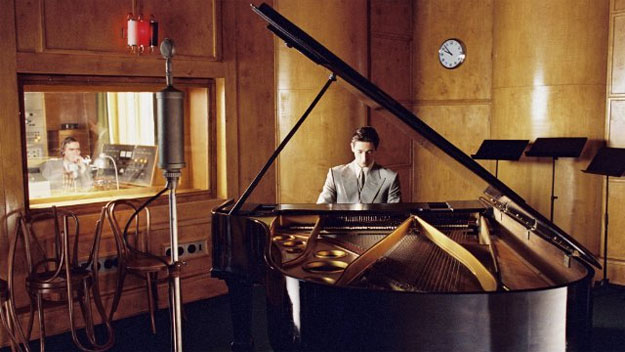 Logline: A devout Jewish musician and pianist, living in Nazi-occupied Poland,  must witness his family being systematically kidnapped and forced into labor (death) camps. He escapes capture and is forced to hide by living amongst the the ruins of destroyed Warsaw.

Memorable Moments: Fast Forward to the scene when Wladyslaw (Adrien Brody), scraggly and sporting a full beard, brilliantly plays Chopin's Ballade No.1 in G Minor "for" a German officer. Perhaps no other scene from the movie is more powerful.

Why People Love It: Well-acted and very poignant, The Pianist is one of  Roman Polanski's crowning achievements. The Pianist captures more of the individual human element of the war instead of attempting to cover the larger picture.
Best Quote: Obscure Radio Announcer: "Poland is no longer alone."
55. Lawrence of Arabia (1962)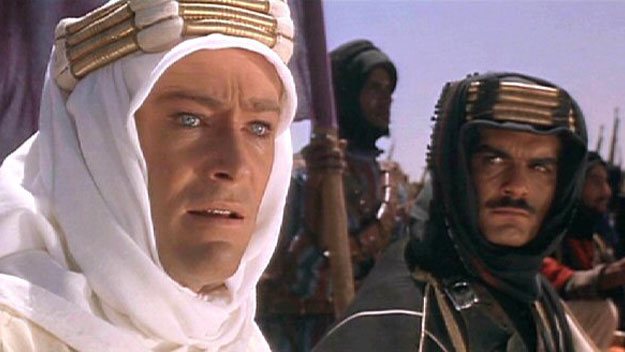 Logline: During World War I, a suave (yet very questionable) military official, Thomas Edward Lawrence, forms a militia-style army in the Arabian desert to destroy the Turks and the Ottoman Empire.

Memorable Moments: Soon after the prologue when Sherif Ali Ben Kharish (Omar Sharif) meets with Lawrence in, maybe, one of the most epic 'I-arrive-fashionably-late' entrances in ever.

Sherif Ali Ben El Kharish (Omar Sharif, making one of the most spectacular entrances in movie history) and draws up plans to aid the Arabs in their rebellion against the Turks.
Why People Love It: Boasting seven Academy Award wins, Lawrence of Arabia is a four-hour long picture whose performances, gorgeous cinematography, and majestic scope possibly equal that of the modern day LOTR trilogy.

Best Quote: T.E. Lawrence (Peter O'Toole): "There may be honor among thieves, but there's none in politicians."
54. Up (2009)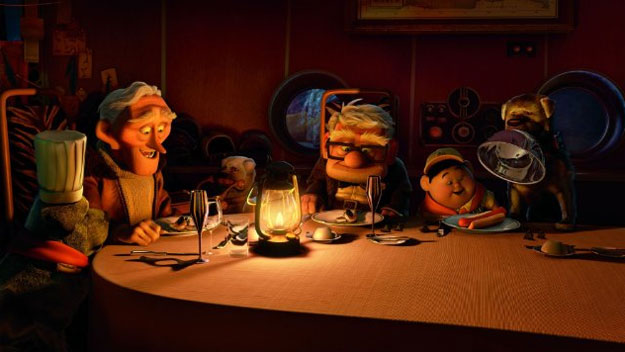 Logline: Carl Fredrickson (Ed Asner), an elderly man that hits a construction worker, is sentenced to live in a retirement home. Before he's taken to it, though, his house floats away with him and a young boy (Russell) in tow on a wild adventure. 

Memorable Moments: Either the during-and-after scenes when Carl and Ellie marry, or, of course, when Carl's house soars into the air (young Russell in tow) with the help of dozens of balloons.
Why People Love It: Funny, thought-provoking, and even tear-inducing: Up is a once-in-a-lifetime animated film that comes packed-full of meaning and substance that kids and adults alike can appreciate.
Best Quote: Russell (Voice by Jordan Nagai): "The wilderness must be explored. CA CA! RRAAWRRRRR!"
53. Wall-E (2008)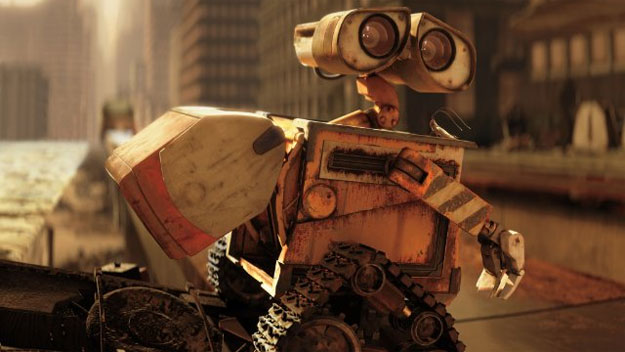 Logline: In a far-off time, a waste collecting robot (WALL-E) is inadvertently thrust on a cosmic journey that will ultimately determine man's fate. With the "help" of a 'reconnaissance' robot named EVE, WALL-E and others rush to save planet Earth from the devastation caused by an evil corporation.
Memorable Moments: WALL-E has a small Igloo-style cooler filled with, among other items of Earth's past, a spork and a Rubik's Cube and appears to be watching Hello, Dolly! on an improvised TV.
Why People Love It: Together with phenomenal visuals, this gem—one that ultimately seeks to moralize people to the dangers of polluting—is hugely popular to many because it portrays that which could become a reality one day.
Best Quote: Captain (Jeff Garlin): "Wait, that doesn't look like Earth. Where's the blue sky? Where's the-the grass?"
52. A Clockwork Orange (1971)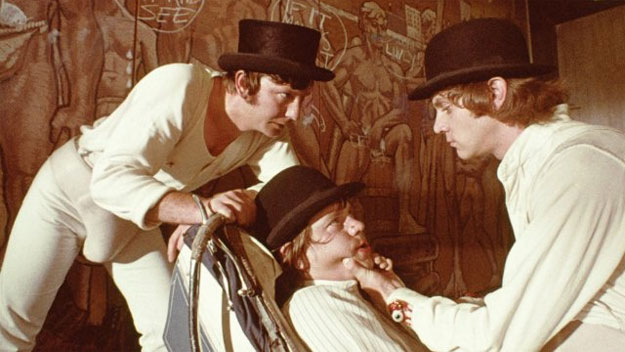 Logline: In a futuristic U.K., a suave, yet very criminal Alex DeLarge (convicted of rape and homicide) is imprisoned. Alex volunteers for an experimental rehabilitation program in which he is 'reprogrammed' to condemn violence in exchange for a commuted sentence. Once out, however, he discovers that his legacy of wonton violence and depravity is now almost insurmountable.
Memorable Moments: Claiming that "there's just been an accident, I need to use the phone", Alex forces his way, along with fellow 'droogs', into a wealthy couple's house and commit unspeakable crimes against them.
Why People Love It: Because it seems like, dare I say it, a Tarantino flick of the early 70's. It's a story that deals with a dark, dystopian place, that's just as mentally visceral as it is physical, with wicked hilarity and chaos.
Best Quote: Alex (Malcom McDowell): "It's funny how the colors of the real world only seem really real when you viddy them on the screen."
51. The Departed (2006)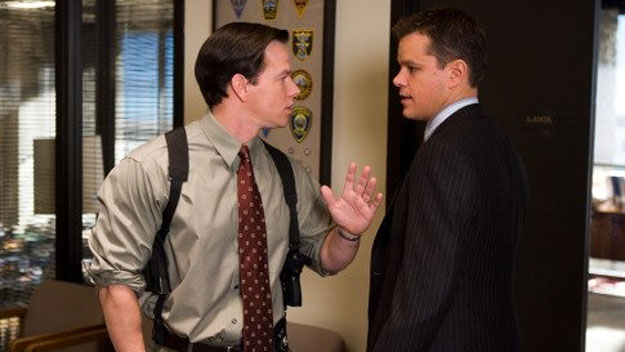 Logline: Something's rotten in the Ma State Police Department; it reeks of a double agent from mob-boss Costello's (Nicholson) gang. Two men of the law, an undercover in Costello's unit and a mole (loyal to Costello) working as a State detective, will stop at nothing to discover each others' identity.
Memorable Moments: In The Departed, the most memorable moments are every time a major character gets whacked—and boy do folks get whacked!
Why People Love It: How can you not love a Scorsese (who also brought us the gems Casino and Goodfellas) gangster flick?

Best Quote: Frank Costello (Nicholson): "When you decide to be something, you can be it…When I was your age they would say we can become cops, or criminals. Today, what I'm saying to you is this: When you're facing a loaded gun, what's the difference?"